BMB London has created an online video campaign for Space Raiders, the much-loved crisp brand owned by KP Snacks.
The 90-second film is shot to resemble leaked government footage capturing an alien crash landing and the subsequent alien autopsy. The film retains its authenticity right until the final moment when a Space Raider is pulled from the Alien's stomach, and the viewer is urged to 'eat the alien babies before they take over the earth.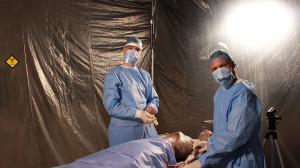 Matt Waller, the Executive Creative Director at BMB London, said: "I disappeared for a few days during my teens and came back smelling of pickled onions! Now I finally know what happened. This groundbreaking 'documentary content' is the perfect way to throw a spotlight on the murky underbelly of Space Raiders and reach a young target audience who love this brand."
The video is teased with 15-second trails on Facebook and YouTube that point towards a conspiracy: "Leaked footage hints at an astonishing secret." The full 90-second film, which will also appear on Facebook and YouTube, shows the full detail of the alien invasion.
Running for two weeks, the film will be retargeted to those who had previously seen the trailer.
George Johnston, Marketing Director of KP Snacks said "We are very excited to have created an out of this world film for Space Raiders, an iconic snack brand, loved by many since childhood and now being rediscovered by a new audience online. We always knew that Space Raiders would take over the earth and now we've found the footage to prove it!"