Research from the Campaign to End Loneliness (CTEL) reveals more than half of UK adults (54%) feel it has been a long time since they made a new friend. With loneliness and isolation on the rise, BMB and the Campaign to End Loneliness have joined forces to resolve the problem – using the power of six year-olds.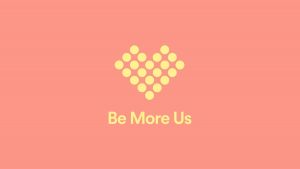 Everyone knows that that it's easy to make friends and strike up conversations when you're a kid – so CTEL is taking children as their inspiration. CTEL and BMB sent out children accompanied by adults into a café where typically solitary and un-sociable people.
tend to keep themselves to themselves. With the help of hidden cameras, we filmed these adorable children approach young and old adults sat alone and ask to be their friend, as well as recording the resulting heart-warming conversations and interactions that were started.
The film launches Be More Us, a movement to inspire people of all ages to celebrate the things we share.  Be More Us is about taking time to connect, and celebrating small moments of connection – like saying hello to someone in your local shop or smiling at someone on the bus.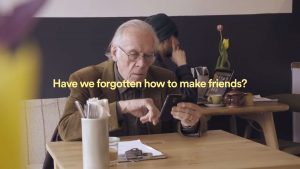 CTEL is asking everyone to inspire others to be more open and talk to others by sharing the film with the hashtag #BeMoreUs. We want to show that EVERYONE can easily connect with other people just like children do, and simply reaching out to each other can help stop loneliness in its tracks in the first place. Be More Us is a nationwide movement to inspire connection, tackle loneliness, and bring people together.
"What the Be More Us film shows is that barriers to connection are easy to overcome. If a child can do it, then we can all do it. Children find it easy to Be More Us – to find what we have in common and what we share, and to create small moments of connection. Loneliness and isolation are on the rise, and people fear the UK is divided," said Laura Alcock-Ferguson, Executive Director of the Campaign to End Loneliness.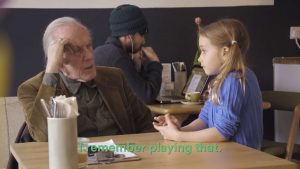 "But research shows small moments of connection, that anyone can get involved with, are valuable. They can tackle loneliness, break down divisions and bring people together. Be More Us will elevate small moments of connection, like saying hello to someone in your local shop or smiling at someone on the bus. Small moments count, and they should be celebrated. The royal wedding is in ten days and it's the perfect way to start to Be More Us. Get involved with your community by going to a street party, or invite your neighbour who lives alone out for a drink. Let's come together and Be More Us."
Richard Wilcock, Business Director at BMB said:  "We're very pleased to be launching Be More Us today.  The initiative is the culmination of months of tireless work where we started with a series of workshops that led us to valuable insights into the dynamics of loneliness and making connections, through to creating a movement of impact that would live on and grow year on year.  The Be More Us movement is a charming and thought provoking prompt for us to all make more effort to engage with others."
Source: BMB