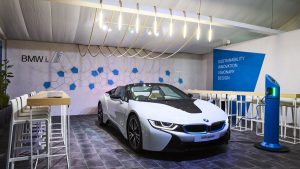 BMW i is hosting a flavour-filled journey that will electrify taste buds at 2018's Taste of London at their Restaurant 'A Taste of BMW i.'
The activation, developed by Wasserman's Experience division, will bring to life the new BMW i8 Roadster through a four-course tasting menu, inspired by the key brand pillars; sustainability, innovation, visionary and design.
The experience allows guests to catch their very first glimpse of the BMW i8 Roadster; ahead of its official launch on Saturday 23rd June. Seated right in front of the new model, guests will be taken on a 'taste drive' through each of the four dishes, with the host explaining how they connect to the unique features of the BMW i8 Roadster.
The menu is produced by innovative caterers, Bubble Food.
The four dishes are: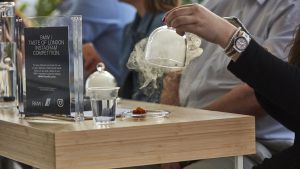 Sustainability
BMW i fish and chips with line caught pollock, microchips and blue spirulina-spiked tartare sauce
A creative reimagining of a classic British dish focuses on the BMW i's rigorous commitment to sustainable sourcing.
Innovation
Smoked watermelon 'tartare', sourdough, aji amarillo sphere
Watermelon slow baked for 36 hours produces a twist on the classic beef tartare, mimicking the BMW i's innovative approach to the i8's production.
Visionary
Second skin squash with dushi button, air-dried squash and tahini hummus
This dish imitates the i8's design, using ingenious techniques to produce a modernist, sculptural form to the squash. Depth and sweetness is then added through the dushi button flower.
Design
Glowing neon blue-shot raindrop, elderflower and strawberry mascarpone cheesecake
A beautifully crafted flavour drop of elderflower and strawberry cheesecake complete with flashes of electric blue, resembling the i8's distinctive design.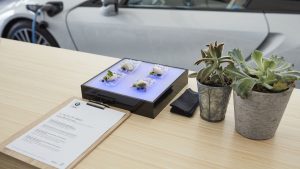 Once guests have enjoyed their four-course tasting, they will be able to get-up close with the Roadster, where they can sign up for a test drive in any model from the BMW or i range. There is also a prize draw to win dinner for two at Jason Atherton's Pollen Street Social.
'A Taste of BMW i' is complimentary to all attendees of Taste of London 2018 from Wednesday 13th – Sunday 17th June at Regent's Park, London.
Sophie Chiappe Marketing Manager at BMW i, said: "We are excited to be the official vehicle partner at this year's Taste of London. Visitors to Taste want to satisfy their passion for food and by serving guests a delicious tasting menu in our restaurant, 'A Taste of BMW i' we can highlight the BMW i8 Roadster's unique features. , It's the first time BMW i have done anything like this, and it's the perfect platform for us to get Taste of Londoners excited about the innovative BMW i range.'
Ben Knight, Account Director at Wasserman, said: "While both different on the surface, Taste of London and BMW i both share a passion for innovation. This year's Taste sustainability theme also ties-in with BMW i's core sustainability message, and this is what makes this experience so powerful. By understanding both audiences, we're able to create an activity that allows food lovers to immerse themselves in the key pillars of the BMW i range."
Jens Nisson, Executive Chef at Bubble, said "The focus on innovation and sustainability coupled with mouth-watering design that BMW are bringing to their market is a perfect match for the food that we love to create at Bubble. We're proud to be partners in their showcase and super excited to be a part of the Taste of London experience."
Source: Wasserman