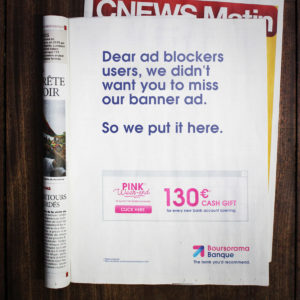 During three days from November 24th to November 27th, Boursorama Bank is launching a new cash gift for its new clients in France. (They receive 130€ when they open a new bank account.)
Unfortunately, ad blockers users wouldn't be able to see this new special offer, which is being promoted via Boursorama's national banner ad campaign.
Facing the growing use of ad blockers, the bank decided to help ad blockers users, so they couldn't miss this offer.
This is why Boursorama, along with creative agency Buzzman, launched the first banner ad campaign printed in the press.
The banner ads have been printed in three of the largest French newspapers from November 24th to November 27th and will be supported by a web facility.
Source: Buzzman