Bouygues Telecom, one of the top French Internet Service Providers, launched a new service, "Guaranteed Internet": an ensured internet access for its subscribers, even when their connection is down, thanks to a 4G mobile hotspot router.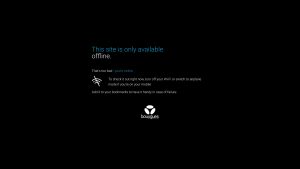 But here's the thing. Not everyone is a Bouygues client.
So, for all those that have not yet subscribed to the offer and live in fear of the blank web page, Bouygues Telecom and BETC Paris launched whentheinternetisdown.com, an online website that only works when you are offline!
This offline website contains hours of entertainment to keep you busy until your internet comes back, as well as some tips to fix the most common causes of disconnection.
Source: BETC Paris