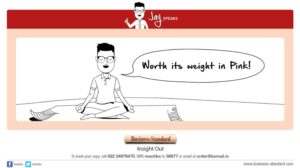 Business Standard has appointed Scarecrow Communications as its AOR, and undertaken a brand repositioning campaign.
The new positioning, created by Scarecrow, is 'Insight Out' that replaces 'Know More. No Less'.
The creative route that encapsulates this, features a character – Jay, who gives his take on various issues related to the business-scape and other current happenings. Jay has already made his appearance in print ads, hoardings and digital.
Akila Urankar, President, Business Standard, said: "I would like to thank our readers for putting a premium on the content. They appreciate the credible reporting and quality analysis which have been our key traits across years of research and feedback. The repositioning gives these some more contemporariness."
"In an increasingly media agnostic consumption universe, Insight Out and its creative rendition aim at refreshing the connect with our core audience, and also appeal to the digital-first reader which is a growing set for us," added Moneesh Chakravarty, Marketing Head.
Raghu Bhat, Founder Director, Scarecrow, commented: "Our new campaign targets the new-age reader. Like the newspaper itself, it relies on the quality of the writing. However, there is also a character whose role is to create synergy, aid recall and make the brand more approachable."
Mustafa Kapasi, Senior Creative Director, Scarecrow said: "From being the first Pink Paper to have a paid premium for its website to using understatement instead of hyberbole, Business Standard has always set new benchmarks. It's a pleasure to work on this."
Scarecrow handles many other media brands like Radio City and Viacom 18.
Credits:
Client: Business Standard
Agency: Scarecrow Communications
Creative: Mustafa Kapasi, Saikat Sengupta, Prasad Jindam, Prasad V, Manasi Kapote
Account Management: Avinaba Sen, Amritha Mohan
Source: Scarecrow Communications