Carol Vorderman appears as you've never seen her before in a brand-new advert for over 50s experts SunLife.
The ad, part of a multi-million-pound campaign, written by SunLife's marketing director Ian Atkinson and filmed and produced by Happy Hour, is to promote SunLife's equity release service.
It was filmed in the last week of May – in SunLife and Carol's hometown of Bristol – and starts with a shot of a couple in their sixties who are standing in their front garden. The man is straightening a 'For Sale' sign on a wooden pole in the ground.
It is very noisy because next door, someone is cutting down branches with a chainsaw. The noise stops and Carol Vorderman comes into shot, wearing protective gear, goggles around her neck and carrying a chainsaw.
She asks her neighbours what is going on and they tell her that money is tight so they are downsizing. At this point, Carol suggests they consider equity release from SunLife.
She motions to the opposite neighbour, who built a conservatory by releasing cash, and another couple on the street who are just returning home in a taxi. They used equity release to give their kids some of their inheritance early and go to the Bahamas.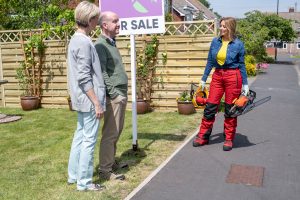 Carol's next-door neighbours say they'll give SunLife a call, and Carol promptly cuts the for-sale sign down with her chainsaw.

The advert – which will appear onscreen from August – is the third SunLife advert to feature Carol Vorderman; the first was in March 2018 when SunLife launched its equity release service, the second was released in May last year.
Commenting, SunLife's marketing director Ian Atkinson said: "Research reveals that Carol is one of the most trusted celebrities in the UK when it comes to making sense of financial figures. Through our previous two adverts, Carol has helped demystify equity release and show how straightforward it can be to unlock the cash you need from the value in your home. With this latest ad, where she is cutting down trees with a chainsaw, Carol, 58, is continuing to show why she is the embodiment of our 'Welcome to life after 50' attitude. She's an active woman who really is embracing life. With her presenting work, charity work and hobbies – including being a registered pilot – she really is an inspirational over 50."
Carol Vorderman MBE added: "I absolutely loved filming this advert. It's always great working with SunLife. And now I think I want a chainsaw!"
Source: SunLife