BMB is launching a new campaign from the Campaign Against Living Miserably (CALM) that encourages men not to bottle up their feelings, featuring a stunt from Love Island's Chris Hughes and Topman.
Launching on World Mental Health Day, CALM's new work #DontBottleItUp aims to show men it's okay to open up rather than bottle up their emotions. The campaign is amplified by creative communications agency W, which was awarded a Cannes Lion in 2016 for its work with CALM on the #BiggerIssues campaign with Lynx.
It comes as new research commissioned by CALM shows that 84% of men in the UK say they bottle up their emotions with nearly half saying they suppress their emotions often or at least once day. This is even more stark for younger men, with almost two in three (62%) 18-24 year olds saying they regularly hide their true feelings (YouGov).
The most common reasons men cited for not opening up about their emotions were not wanting to worry anyone (43%) and preferring to sort it out themselves (49%). Men were also found to be much less likely than women to open up about their emotions face-to-face (63% v. 72%), over the phone (16% v. 27%) or by text/email (17% v. 27%).
The research shows many men are feeling the pressure to 'man up' and bottle up their emotions, despite the fact the majority of people (52%) feel comfortable when a man opens up to them about his emotions, and half of us say we're glad that a man has opened up to us. This shows just how ludicrous it is for men to bottle it up.
The campaign is going live in two phases, firstly with a stunt from Hughes revealing he is launching a new mineral water brand through Topman called L'Eau de Chris – hinting at the ludicrous joke to be revealed – that promises to be "infused with a Chris Hughes tear".
The fake ad campaign, shot by Rankin, shows Hughes posing in a pair of Topman boxer shorts holding a bottle of the water brand with a tear running down his cheek.
The stunt promises to launch the mineral water brand on the 10th October, which is World Mental Health Day. At the London launch event  Hughes will reveal the truth behind the stunt, explaining that he and Topman have joined forces with CALM to launch the #DontBottleItUp campaign.
As part of the work, an ultra-limited edition run of L'Eau de Chris water bottles created for the campaign launch will also be auctioned here with all proceeds going to support the charity. Topman will also donate £2 from every pair of boxers sold in October to CALM.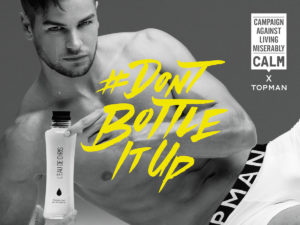 Speaking about his involvement, Chris Hughes said: "What's really ludicrous is that suicide is still the single biggest killer of young men in the UK. We live in a culture that encourages men to 'man up' and bottle things up. That's why I've become an Ambassador for CALM and why together with Topman we want to show men across the UK that it's okay to open up instead of bottling it up. I've got personal experience of the benefits of opening up and expressing emotion, which is why I want to work with this incredible charity in its mission to making life less miserable for men across the UK. Our message to all guys is: however you open up, just #DontBottleItUp."
Simon Gunning, CEO of CALM, said: "Both on and off screen, Chris has been widely praised for opening up about his emotions. As an Ambassador for CALM and the face of the #DontBottleItUp campaign, Chris will use his profile to help us to challenge a culture that prevents men from opening up and seeking help when they need it. With suicide continuing to be the single biggest killer of young men in the UK, it's vital that we show that it's okay to open up and ask for help."
Jules Chalkley, Chief Creative Officer, BMB, said: "Suicide is the biggest killer of men under 45. It's vital that we shift the cultural norms at scale so that when men need help, they feel able to ask for it. Working in an incredible collaboration with Chris Hughes, Topman, Rankin and CALM we wanted to create a moment in time that is highly disruptive and that encourages men not to bottle up their emotions."
Adam Leigh, Strategy Director of W, said: "We're very happy to be able to continue our work with CALM and provide our support to such a worthwhile campaign. #DontBottleItUp is a simple but hugely important message. Chris's involvement will help to make it the national talking point it deserves to be."
Source: BMB