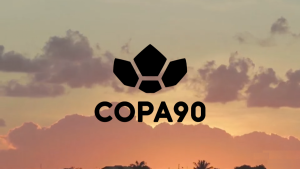 Copa90, the global football entertainment channel, has launched the first crowd-sourced store for football fans.
Shopa90 is like no other merchandise store in that it is entirely fan driven. The shop will openly and transparently ask Copa90s 10 million fans which items they would like to buy.
Copa90 has already had requests for everything from stickers, t-shirts, and Copa90 football kits, to personal appearances from its presenters Poet and Vuj at birthday parties.
Products for the store will roll-out following polls conducted with Copa90's audience via a Twitter-based widget. Fans will pick their favourites with the winning designs making it to the store ready for purchase.
Copa90 will also ask fans to submit ideas and designs on the hashtag #CopaMake. As a thank you, the creator of each successful idea will receive five of the final designs to give to their mates.
The shop launch will be followed later this year with a series of "erasable" mini stores, which will disappear after 24 hours. Inspired by a generation weaned on Snapchat, the shops will encourage fans to flock online quickly to find the best Copa90 merchandise.
During a recent trial opening, the Copa90 store sold out of all 90 copies of its famous Messi screen print in just 45 minutes.
James Kirkham, the head of Copa90, said: "This is just part one in a series of many initiatives where we answer the call of fans. Our 10 million Copa consumers around the world are effectively deciding what they want to buy, and the beauty with Shopa90 is that we can virtually shape shift to suit their needs and wishes."