Sistema Shyam TeleServices Limited (SSTL), which provides telecom services under the MTS brand, recently announced the launch of Canvas Blaze, a Dual SIM CDMA + GSM Smartphone preloaded with data and voice benefits for six months. Creativeland Asia, India's leading independent communications company has conceptualized the communication campaign of Canvas Blaze Dual SIM for television, press and digital media.
The campaign is targeted at young smart phone users and intenders who see technology as their oxygen. 'The Internet generation', as Creativeland has branded them in this campaign, believes that their power comes from their connections and therefore, increasingly spends more and more time online. They constantly hanker for connectivity and speed. These youngsters have a sense of entitlement that makes them not just Smart but Smartass.
And that's exactly what this phone is. This campaign is an ode to this emerging behavioural code.
The TVC is a rousing film that has a mix of bold cast, an energetic sound track and most importantly, a voice over that captures the ideology of the 'Internet Generation'. The film opens with a young man making a bold statement, "It's all about me."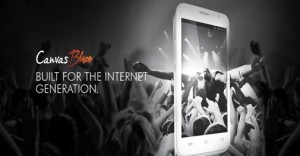 He goes on to talk about the various reasons he is online like networking with friends and friends-of-friends, constantly updating himself with information about people and facts and spending time searching and stumbling. The film ends on a galvanizing note.
The VO concludes, "For all the world wide web is a stage. And, this is my show. Introducing Canvas Blaze, preloaded with MTS Blaze internet. It's a smartass phone for the Internet Generation."
Sajan RaJ Kurup, Founder and Creative Chairman, explains, "The film is an eclectic character-sketch of an emerging behaviour code we call the 'Internet Generation'. The film is a first step towards establishing MTS as the network designed for a whole generation that uses a phone as everything but a just phone."
According to Leonid Musatov, Chief Marketing & Sales Officer – MTS India, "We at MTS believe in constantly engaging our customers with exciting products and services. As part of the same endeavor, we have launched Canvas Blaze in partnership with Micromax. An exciting Dual SIM, CDMA + GSM Smartphone – Canvas Blaze comes packed with data and voice benefits for six months. The launch of Canvas Blaze is supported by an integrated communication campaign including TVCs, print and social and other below the line activities. The campaign is conceptualized by MTS' creative agency, Creativeland Asia."
The film is directed by Bharat Sikka.