China Southern Airlines has launched an Out-of-Home (OOH) campaign with the help of an independent global creative agency Crowd. With services to 65 international destinations, CSA tasked Crowd to raise awareness on the new long-haul flights from London to Australia, New Zealand, and South East Asia.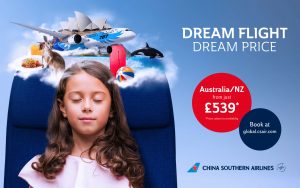 The advertising campaign was based on the 787 Dreamliner, China Southern Airlines' newest aircraft.
The campaign aims to build awareness amongst flyers that CSA is an airline representing the best of Chinese culture: comfort, warmth and total care. The in-flight travel experience provides a hospitality for long-haul passengers including a range of western and oriental food, entertainment and fully flat beds in both business and first class. With class and comfort at the heart of CSA, travel would be like a dream.
The campaign depicts the relaxing experience that flying with CSA offers, whilst looking forward to adventures that await. The elements of the 'dream' are shown as a composite image with objects and landmarks shown in varying scales and positions on a cloud that is floating gently around the passenger's slumbering head.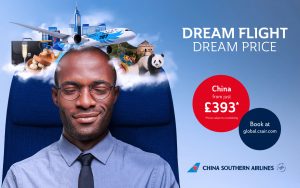 "This concept allowed us to show the attractions of the destination and some of the on-board amenities, but with a strong focus on the comfort and relaxation," says Steve Howling, Global Creative Director at Crowd.
Dean Saxby, Key Account Manager UK & Ireland, China Southern Airlines adds: "This new campaign is specifically designed to introduce CSA to the British market in a way that adds real value to their travel. We want to underscore and celebrate what sets CSA apart from other airlines – "The Dream Flying", a premium and comfortable journey with the flight 'going like a dream'."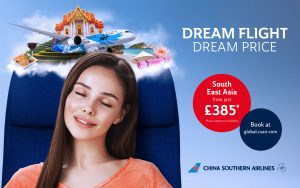 The advertising campaign started with a series of banners at the Epsom Downs Horse Races in August. The newest part of the OOH campaign includes several billboard adverts at the London Underground (Piccadilly, Paddington, Liverpool St, Waterloo and Victoria stations) from 19th of November.
Jamie Sergeant, Founder, Crowd said: "It's fantastic that China Southern Airlines has chosen to use the London Underground for its latest OOH campaign. This is the place where commuters dream to escape their everyday lives and plan their next adventure."
Source: Crowd