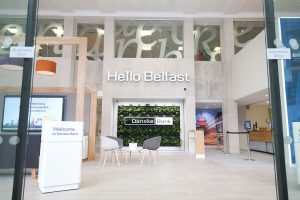 I-AM worked with Danske Bank to design their spectacular flagship branch in Belfast and a specially-designed co-working space which sits alongside it and caters for early stage technology companies operating in the financial services sector. With the aim of "Making more possible" I-AM helped Danske Bank in creating a progressive, showcase destination over 895 square metres that will cater for banking customers and local businesses as well as fintech start-ups.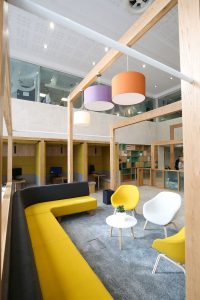 The location on Donegall Square West in the heart of the city, has been conceptualised as a modern yet friendly multi-functional experience that empowers customers to access personal service and information easily, in an environment that is welcoming, inspiring and spacious.
The design was conceived by I-AM with a dedicated team from Danske Bank, based on the points of view of a range of Danske Bank customers, resulting in a flexible, innovative and engaging space and set of facilities for banking customers and fintech start-ups alike. It includes a range of digital technologies, mixed-use interaction spaces including an event and seminar room, and breakout coffee area.
Across a longstanding relationship since 2013, I-AM has worked with Danske Bank in Northern Ireland on a new concept design and rollout strategy for their core branch experiences – with the latest flagship that includes an evolved & upgraded version of the established design in the branch section. The focus of the brief for the co-working space was on developing modern features from co-working spaces, cafes and integrating technology that embraces the future of banking.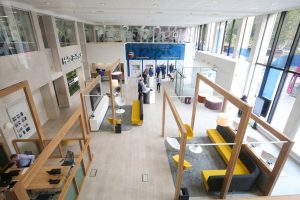 Alan Scott, Regional Service Manager, Danske Bank (UK), commented: "We have enjoyed a positive and innovative working relationship with I-AM over the years which has helped us transform our Bank concept from being just another Bank among the crowd to being the one the crowd aspire to follow. When the opportunity came up to refurbished our flagship branch and integrate it seamlessly with the adjoining Fintech workspace we knew we had a great opportunity to deliver something special. I-AM skilfully ascertained our business and customer needs and translated this into our finest Bank space to date. The final fulfilment of the brief was passed when the first customer entered the refurbished branch and said "Wow!"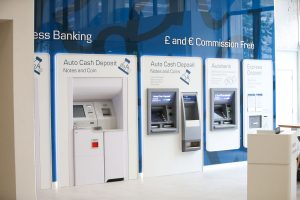 Pete Champion, I-AM Group Partner & Creative Strategy Director, said: "We are delighted to be the creators of the concept, for such a visionary use of this spectacular space. Combining future-led features such as Fintech co-working areas, along with Danske Bank's heritage – gives a new lease of life to the branch, and shows to banks around the world, a new way of thinking about their branches within a digital environment."
Danske Bank is the trading name of Northern Bank Ltd, one of the largest banks in Northern Ireland and an autonomous subsidiary of the Danske Bank Group, headquartered in Copenhagen.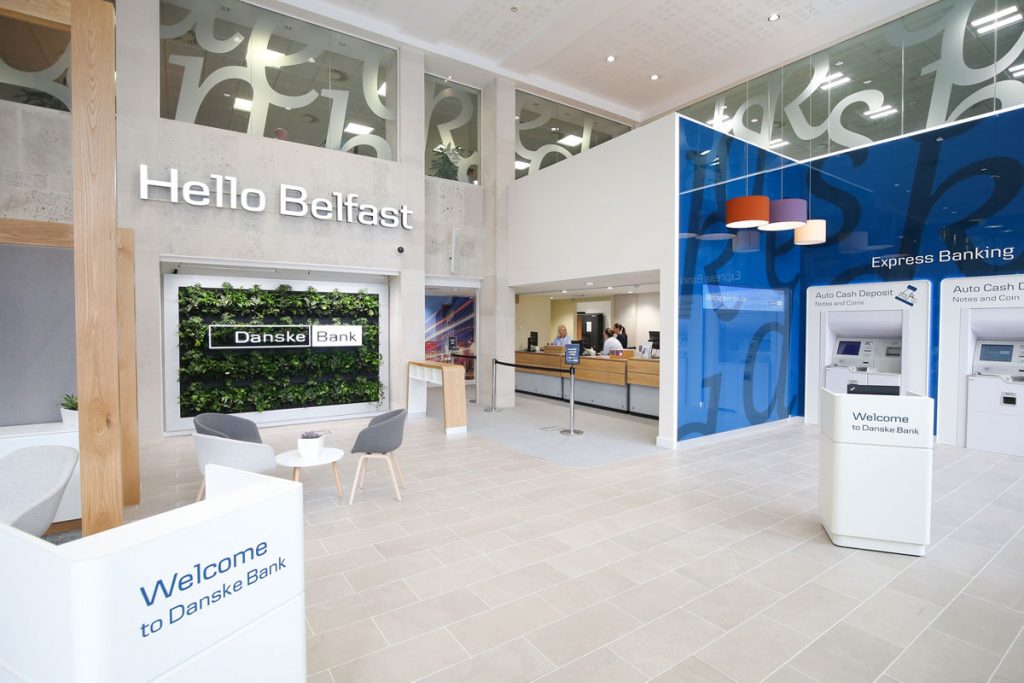 Source: I-AM