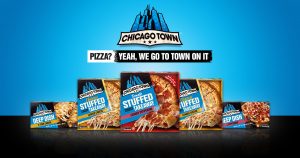 Creative branding and digital consultancy DECIDE has rebranded Chicago Town, one of the UK's best-selling frozen pizza brand worth £115.6m. The rebrand features a redesign of the iconic brand marque, packaging and website design. 
The new design reflects the 'the real taste of Chicago' brand promise, and differentiates the sub ranges by crust type to encourage greater cross-trialling of products by the UK's pizza fanatics. The Pizza Kitchen range has been rebranded as Tiger Crust and a new Loaded Cheese Cheesy Stuffed Crust has been introduced to the Takeaway Stuffed Crust collection.
An improved style of serving suggestion has been created to optimise taste appeal that communicates the American-inspired generosity of toppings and the real, gooey, messiness of the authentic pizza experience. This styling has been applied across all communication platforms, including TV and cinema, to ensure consistency of brand messaging.
DECIDE were briefed to develop an impactful unified branding solution to reflect a 'real taste of Chicago'.
Grant Marshall, Creative Director of branding and digital design consultancy DECIDE says: "We've evolved the design of the Chicago Town brand for packaging and the web to confidently communicate its leading brand status, creating a disruptive design architecture which differentiates from the competition in the freezer and aids shopper navigation. Visual and verbal equities have been developed which clearly communicate the brand's American-inspired roots; from a new, improved brand marque and big, bold blue graphic panels which unify the range and improve brand-blocking at fixture to serving suggestions which ooze taste appeal. This is a rebrand we've really gone to town on!"
Jo Errington-Stevens, Marketing and Business Development Manager at DECIDE says: "The clear differentiation between each crust type within the Chicago Town range of products aims to increase awareness of the choice available and to increase shopper repertoire by encouraging additional purchase."
New designs will begin to appear on shelf in major retailers this month.
Source: DECIDE