American automotive manufacturer Dodge, launched tongue-in-cheek commercials for Shark Week which proves that, sometimes, it's best to stick to the streets. Created by GSD&M, Asphalt Party sees people bringing the beach to their Dodge and it's surprising what they can recreate on the pavement.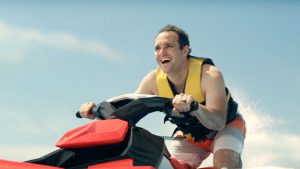 Directed by Jason Woliner, the spot opens on a guy jet skiing as close to open water as he can get, a portable swimming pool in a sunny parking lot. A little girl builds debris castles, while a snorkeler splashes about in a baby pool. Couples sunbathe on the blacktop between different Dodge models and one guy is even getting ready to launch his parasail with his muscle car – 'probably not a good idea Dave!'
Full service, Austin-based post production company, TBD Post, was brought on board to edit, colour grade and sound design the spots.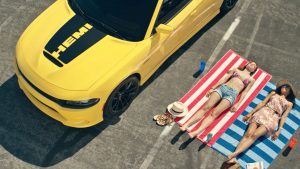 Editor at TBD, Andrea Mendoza, explains that comedic timing was key for the creative. She comments: "My brief was one sentence: it must be funny. My goal was to find the best moments and make them work within the confines of our spots. Hearing a joke for the first time is always much funnier than hearing it for the third or fourth time. When pulling selects it's important to pull anything that makes you laugh straight off the bat, this is the time when you get the best sense of what is funny.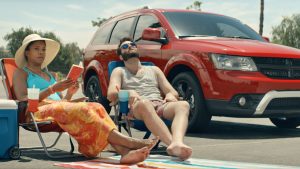 She continues: "These particular spots had a lot to fit in and depended a great deal on (physical humor). The biggest challenge for me was being able to include it all and maintain a comfortable pace. Initially, we had a setup with three vignettes but settled on one that lasted a little longer (the jet ski), to hold off on the reveal as long as we could."
Sound designer at TBD, Dusty Albertz, engineered the mix for the spots. "I've worked on a handful of Dodge campaigns and they're always fun to design and mix. This was a little different though because while we had the cars doing a number of tricks, the bulk of the design was creating many layers that build up the beach-like environment and activities of people in the parking lot.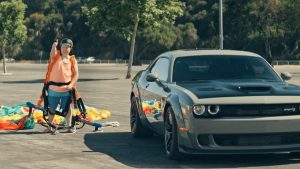 "The music was an important consideration in these commercials," comments Editor, Andrea Mendoza, "not only to allow the sounds of the cars to be heard clearly and boldly but also to point toward summertime and the comedic rhythm of the narrative. Music wasn't necessarily a challenge, but we knew it was important to feel like summer and lend itself to comedy without being over the top. It took quite a bit of digging, but I think we found a great track that was fun, summery with a nod to comedy.
Asphalt Party will run on TV and online channels for the entirety of Shark Week.
Source: TBD Post