easyJet and Europcar are taking customers on a journey to an alternative future in a new series of films in which hire cars can take to the skies – shot from the perspective of both companies' helpful employees.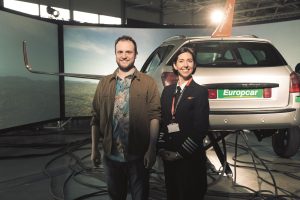 Marking a 15-year partnership between the low-cost airline and car rental brand, the 'Fly-Drive' campaign envisions the future of travel in a series of mockumentary films about the 'World's First Flying Car for Hire'. It shows how a technical marvel like a flying car could forever change the roles of employees at both companies.
'Fly-Drive' follows the stories of an easyJet pilot trainer, ground staff as well as a re-imagined Europcar customer agent, bringing to life how the roles in airlines and car rentals might change in a world where cars can fly.
The new social media advertising campaign goes behind-the-scenes with staff members in short mockumentary-style videos that will be shared on the easyJet and Europcar social media platforms in May 2018. It was shot near Malaga, Spain and in Farnborough, United Kingdom.
The partnership between easyJet and Europcar commenced in 2003, providing exclusive rates on rental services to customers, including a 'Lowest Price Guarantee' in easyJet's 31 destination countries. Fifteen years later, the companies still pride themselves on their commitment to providing a seamless travel experience to customers.
The videos are a fun way of showing how employees would look after customers– even if the scope of what they do changes in years to come.
Kim McDonnell, Head of Proposition at easyJet said: "We are excited by future innovations that will make travel easier for our passengers. We therefore wanted to offer our customers an entertaining insight into what the future could hold. The mockumentaries allow us to create fun content for customers and highlight our long standing and successful partnership with Europcar, which millions of easyJet customers use each year."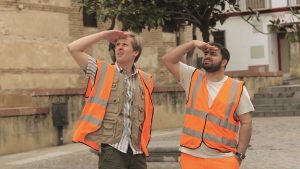 Gary Smith, Managing Director, Europcar UK Group said: "We have a long-standing relationship with easyJet and look forward to the future, by further improving the value and service delivered to customers. Our goal is to provide travelers with exciting new innovations addressing all their mobility needs. Who knows, one day we may well be in the business of supplying flying cars to customers."
The campaign was conceived and created by easyJet's creative agency VCCP, along with support in media relations from PR agency Taylor Herring.
Source: VCCP