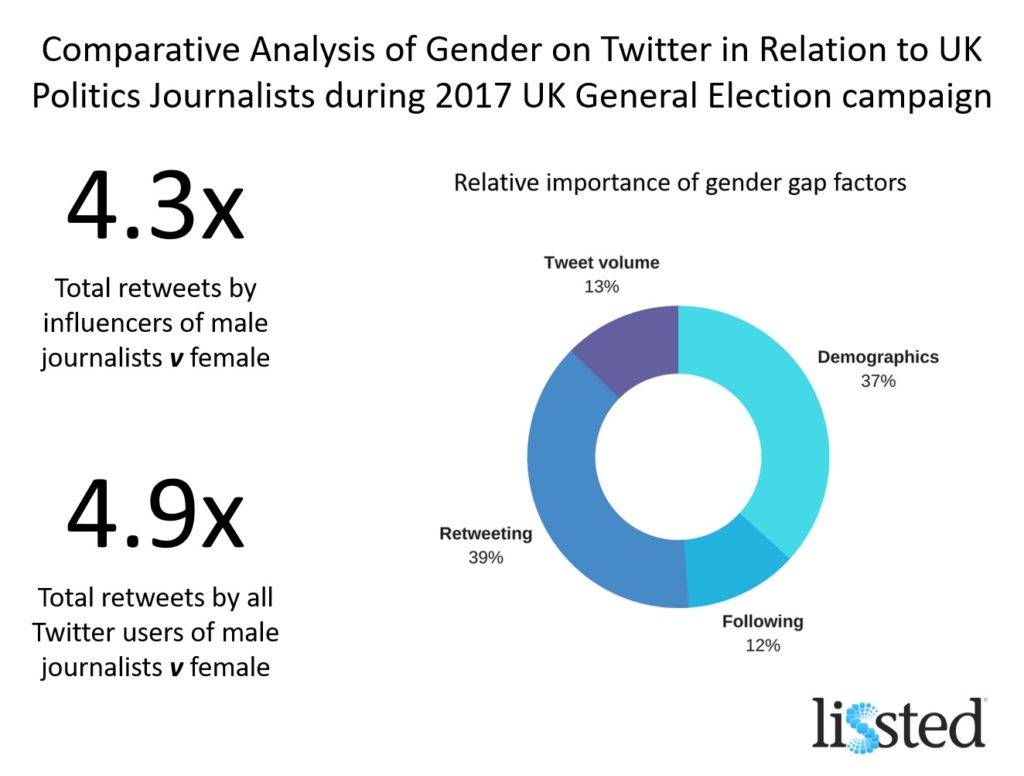 Lissted, the influencer discovery and real-time Twitter filtering platform, has published in-depth research into the comparative retweet performance of male and female UK politics journalists during the 2017 General Election campaign period.
The research found male UK politics journalists received 4.3x more retweets from influential Twitter users compared to their female colleagues, and 4.9x more retweets from Twitter users as a whole.
The disparity was due to a combination of four main factors (relative importance in brackets):
Demographics (37 per cent) – there are more male UK politics journalists on Twitter and male influencers are in the majority within the wider UK Politics Twitter community. In both cases the ratio was estimated to be approximately 5:3.
Following preference (12 per cent) – both male and female Twitter influencers were more likely to follow male journalists than female. Even after adjusting for demographics the ratio was 57:43 overall with male influencers exhibiting a slightly greater preference of 58:42 and female influencers slightly lower at 53:47.
Tweet volume (13 per cent) – the male journalist population tweet approximately 1.23 times more frequently on average than female journalists giving them more opportunity for retweets to occur.
Retweet preference (39 per cent) – both male and female Twitter influencers (and Twitter users as a whole) were more likely to retweet male journalists than female. Even after adjusting for the previous three factors the ratios were – Overall 67:33, Male Influencers 68:32, Female Influencers 65:35.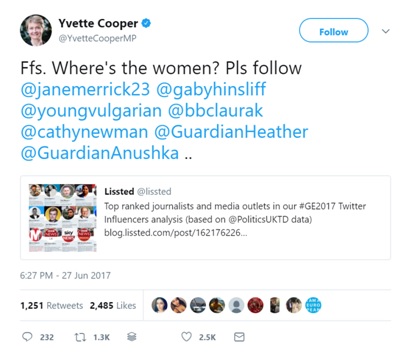 The research was carried out in response to the surprise generated by a finding in Lissted's UK General Election 2017 Twitter Influencer analysis where the top ten journalists ranked in the analysis were all male.
This previous study was based on tweets featured on the @PoliticsUKTD (Politics UK Distilled) Twitter account. The account is powered by Lissted's Tweetsdistilled system which estimates and ranks the apparent influence of tweets and then retweets those it ranks the highest.
The Politics UKTD study was based on over 3 million tweets by influential Twitter users between 18th April 2017 and 7th June 2017. These tweets included retweets and replies to over 200,000 other accounts.
Lissted carried out this latest research to establish why this all male top 10 had been observed.
The analysis demonstrates the validity of this finding, indicating there is an observable glass ceiling effect when ranking the influence of female UK politics journalists.
Other findings within the research included:
Male journalists' tweets included opinions more frequently than female journalists (57 per cent versus 48 per cent). The inclusion of opinions was positively correlated with increased retweets and likes, however it only explained a very small amount (0.5 per cent) of the variation in retweets and likes.
Only three female journalists (Laura Kuenssberg, Isabel Hardman and Sophy Ridge) ranked in the top 20 most followed accounts for both male and female influencers. This compares to 11 for the male journalists (Faisal Islam, Michael Crick, Robert Peston, Jon Snow, Fraser Nelson, Paul Waugh, Nick Robinson, Nick Sutton, Andrew Neil, Daniel Finkelstein and David Aaronovitch).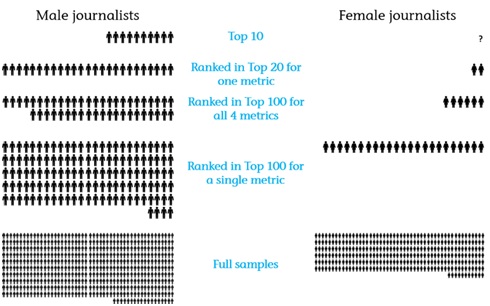 Commenting on the research Adam Parker, Founder of Lissted, said "The research shows that Twitter conversation in relation to UK Politics potentially suffers from a significant degree of bias in favour of the opinions and reporting of male journalists. As Twitter can often be a source of stories and commentary for the wider media, this may also impact wider political coverage and discourse in general."
The research focussed on the retweeting and following behaviour of influencers, due to their disproportionate ability to amplify voices on Twitter.
For example the analysis estimates, a shift of 17 per cent in the retweet ratio of the 1,076 (one in ten) influencers who were most active retweeters, and had an adjusted male:female retweet ratio of 50 per cent or more, would have resulted in a 44 per cent improvement in the relative amplification of female journalists.
Adam Parker continued: "A more mindful approach to retweeting by a relatively small number of influencers could have a considerable impact on the relative gender balance of political conversation on Twitter. It was interesting to note the heavily male biased retweet ratio of some of those who were most vocal in their response to the all-male top 10. This may indicate a lack of mindfulness about their own behaviour in this regard."
Source: Lissted