Ignite, a premium CBD (cannabidiol) brand created by successful US poker player and businessman Dan Bilzerian, has launched in the UK. The campaign, titled 'Ignited Kingdom', was conceived by launch marketing agency Five by Five, which has led on the creative strategy, the idea and the roll out across print, digital display, OOH and DOOH.
Comprising a series of five executions rolling out from this week, 'Ignited Kingdom' demonstrates the balanced, aspirational lifestyle Ignite encourages through CBD use, combining a fashion feel with religious and spiritual iconography. One shows a woman shining in a silver outfit on a cramped tube platform, looking vibrant compared to the zombie-esque commuters flanking her. In another, the same woman sparkles amidst a crowded city streetscape.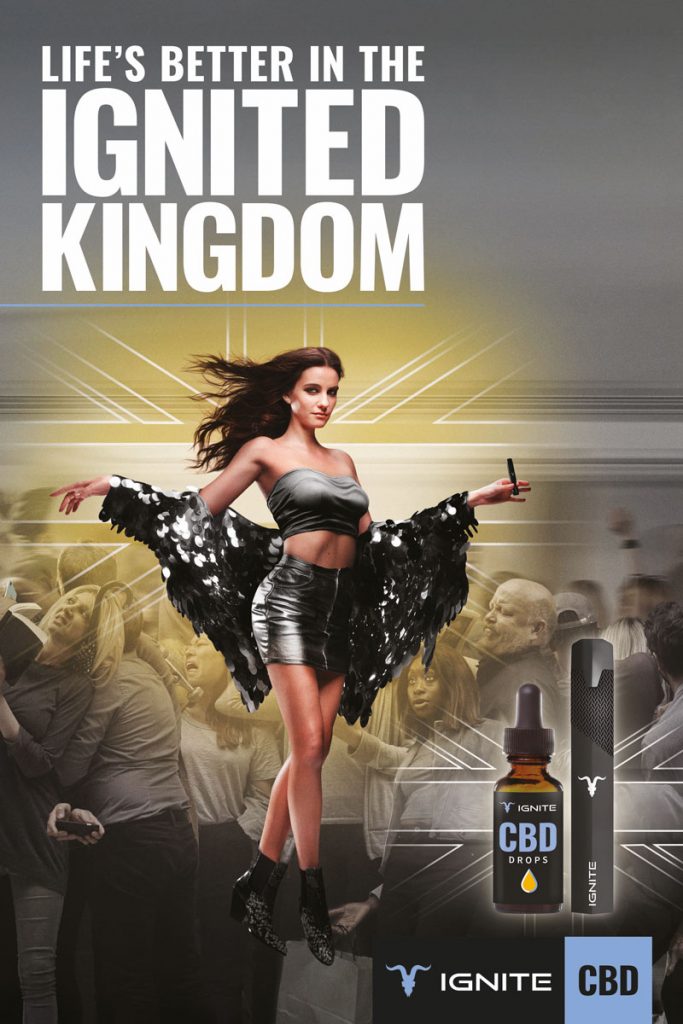 The creative establishes Ignite as the first major CBD push in the UK, and is a vehicle for advertising the brand's vape pens and range of oils, targeting young males and females aged 18-35. This includes Ignite One with three different flavoured pods, disposable vapes in three different flavours, CBD drops in five flavours and CBD lip balm in three flavours.
Paul Cottrell, creative director at Five by Five, says: "CBD is a brand-new sector in the UK, and Ignite's a new brand over here too. We needed to transpose the unapologetically feel-good, California chill-out vibe that made Ignite such a success in the US to a British audience. The work is simple, it's positive, and it spells out what Ignite can do for customers. I can't thank the team enough for their implicit trust, and letting us plant the flag for CBD in the UK."
Jim McCormick, CEO Ignite International, adds: "We are excited to have launched our Ignite CBD product line in the UK. The initial response has been overwhelming and we look forward to dividing our business across the UK with our trade partners. Given CBD's new legal status in the country, and the reluctance from traditional gatekeepers to engage, we needed an expert launch agency to navigate this unknown landscape with our brand."
CBD was legalised in the UK in November 2018. Ignite was launched in the US in September last year.
Source: Five by Five