The Flower Council of Holland and Amsterdam creative agency 180 Kingsday present a new TV and online campaign, reminding people why we need more flowers.
'We need more flowers' celebrates the wonderful, magical and incredibly diverse effects that flowers have on people. It's a powerful ode to flowers, and a rallying cry for a life lived to the fullest. The new campaign theme digs beyond the surface of flowers' beauty by emphasising how they work their magic in all moments that make life meaningful.
The Flower Council of Holland promotes flowers in Europe through their consumer brand Funnyhowflowersdothat.co.uk.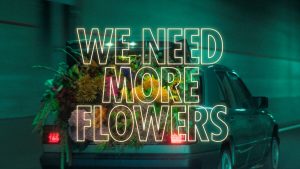 Daan Langstraat, campaign manager, on the new strategy and campaign platform said: "In the beginning of this year we decided to start from scratch and develop a new theme, also involving flower growers and traders in the process. And we concluded that flowers are so much more than eye candy. Flowers are emotion, flowers are life. They have the power to positively affect how we feel – which is exactly why we need more of them. And let's be honest, what other brand could claim a statement like this?"
Kalle Hellzen, Executive Creative Director of 180 Kingsday added: "Flowers matter. They let us express and feel all the feels that define us as humans. They let us mourn and celebrate, console and court, say "sorry" and "I love you". And in a world optimising towards the anti-septic vanilla, feelings matter, and we wanted the work to stay true to, and celebrate, just that."
The integrated campaign launches in three countries, the UK, Germany and the Netherlands, and includes TV, outdoor, digital and experiential activities.
Hero of the campaign is a 60-second film, full of flowers and slices of life, that was made in collaboration with production company Since '88 and director Lisette Donkersloot.
Source: 180 Kingsday