Iconic American clothing brand, Gap is launching its newest instalment of their "Meet Me in the Gap"campaign, on September 18th, in collaboration with Yard NYC.
The campaign, which launched in late July, demonstrates the magic that can happen when you bring unexpected people together – going beyond simply telling to actually showing what it means to meet in the gap.
To highlight this the brand found creators from all over the US with entirely different backgrounds, and put them together in unexpected, surprising combinations to collaborate.
The campaign features five spots, which will run across TV and social across the nation.
Each collaboration was intentionally unscripted: Yard didn't know what would happen when the team put a yodeler, an auctioneer, a flutist and a beat boxer in the same room and asked them to create together.
The resulting spots show the amazing things that can happen when you put people from unexpected backgrounds together communicating that "when we meet people who are not like us, and take a chance to close the gaps between us, we find we have more in common than what keeps us apart."
"Meet Me in the Gap demonstrates what's possible when people from all different backgrounds and talents come together. They all met for the first time the day before they went into a studio and created the track together. The spot was then shot based on the original track they had recorded. One of the things that makes the Meet Me in the Gap campaign really unique is it was created in real time, each spot coming together based on the magic that happens when great talents meet," said YARD NYC's Chief Creative Officer, Stephen Niedzwiecki.
"These meet ups are so unexpected and yet so natural for a democratic American brand like the Gap. A brand that authentically reaches across geography, generations and genres. When Gap is at its best – it's advertising is simple, iconic and creates a feeling of joy. It entertains in surprising ways. From an art direction point of view we returned to owning the iconic Gap blank, white space and finding new ways of reimagining it to make it even more relevant for today."
Credits: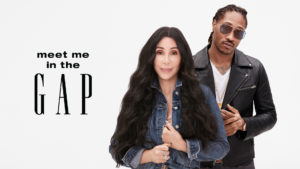 Client: Gap
Craig Brommers, SVP/CMO
Agency: YARD NYC
Stephen Niedzwiecki- Co-Founder & Chief Creative Officer
Dave Clark- Executive Creative Director
David Oscroft- Creative Director
Jay Chapman – Design Director
Ahyoung Moon- Art Director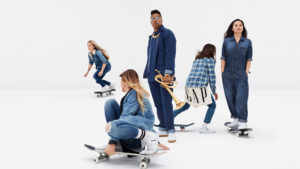 Steven Williams- Designer
Kira Pack- Copy Writer
Ruth Bernstein- Co-Founder & Chief Strategic Officer
James Denman- Executive Director of Strategy
Jarrod Bull- Managing Director
Bobby Bush- Account Supervisor
Judy Anekal- Head of Production
Kirsten Arongino – Executive Producer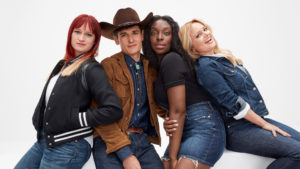 Peter Schwab- Associate Producer
Production Company: Missing Pieces
Director: Director X
Edit House: Rock Paper Scissors
Editors: Ted Guard, Carlos Arias
Music Supervisor: Good Ear
Colorist: CO3
Photography Production Company: North Six
Photographer: Dan Jackson
Source:Â Yard NYC