giffgaff, the multi-award winning, contract-free mobile network has released an immersive short film entitled 'House of Horror' to reveal the everyday fears of its members.
giffgaff's House of Horrors is a two-minute, horror film created based on a simple Facebook post back in August, which asked giffgaff members to share their greatest fears.
The five fears that feature are:
Politicians …enough said
Social media games / requests/ tagging …"you've been tagged" (queue stomach churning)
Socks and sandals… yuk
Voicemails from your mother …we all love our mum but she can't half natter on message
Phone battery dying …the red bar of fear
Phone contracts …and what's more scary than being tied down, unable to move for two whole years?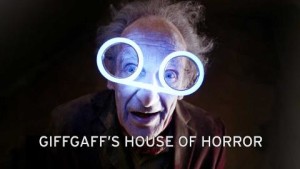 Award-winning director of giffgaff's House of Horror film, Ninian Doff at Pulse films shot the entire film inside a derelict Grade II listed mansion, within the grounds of Beckenham Place Park.
The film goes live on the 29th October for Halloween and can be seen on giffgaff's Social channels and in Nomad and Pearl and Dean Cinemas.
giffgaff's House of Horrors follows in the footsteps of previous giffgaff Halloween frolics; 2013 'Different takes guts' and 2014 'giffgaff x Halloween'
Director Ninian Doff at Pulse Films comments on the making of the two-minute film: "I don't know why I hate and fear checking my voicemail, but I really do get stressed out when I see that alert coming up! This is what I loved when I read the list of giffgaff member fears – it's really amusing, and relatable, to see the strange fears we've developed of supposedly normal and dull things in modern life. Then it was really funny to film these "un-scary" things with the same drama and tension you would film a scene with a knife wielding maniac or a blood-thirsty zombie."
Tom Rainsford, giffgaff's Brand Director comments on the network's latest production: "After watching Halloween celebrations in the UK grow each year, we decided in 2013 that we would create authentic horror content. This move resulted in over 2.5 million total campaign views in just 48 hours last year. This year, we've managed to create a short horror film that not only remains true to the authentic Halloween theme, but also has our members' fears at its heart, making it even more powerful."