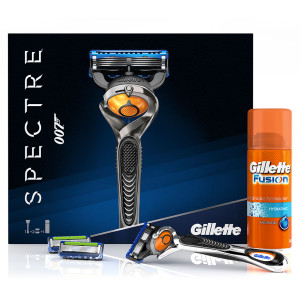 As the world prepares for the release of SPECTRE, the 24th Bond film, Gillette celebrates the moments in every man's life where he feels in control and confident. But these "Bond moments" don't just happen – they come with precise preparation.
Inspiring Bond Moments
Starting on October 1, Gillette introduce their campaign "Bond Moments" inspired by the creator and author of James Bond, Ian Fleming. Fleming's powerful and poetic words form the foundation of the campaign. His quotes describing the ultimate "Bond Moments" are present throughout the campaign across TV, print, online and in-store.
The campaign will kick off with a TV spot linking the iconic action inspired by the world of Bond to the precise tools from Gillette that together prepare men for their own "Bond Moments."
SPECTRE, the 24th James Bond adventure, from Albert R. Broccoli's EON Productions, Metro-Goldwyn-Mayer Studios, and Sony Pictures Entertainment, will be released in the UK on October 26.
Gillette has partnered with Jany Temime, award-winning costume designer from SKYFALL and SPECTRE, to provide style tips to help men everywhere feel confident and look their best so they are prepared for their "Bond Moments." On October 10, Jany Temime will take to Gillette's Twitter account to share her tips and answer questions on how men can create these special style moments.
"Just like Bond, men look and feel their best when they are properly prepared for any situation that comes their way," said John Mang, Vice President, Global Gillette. "By partnering with SPECTRE, Jany Temime and The Fleming Estate, Gillette is showcasing the precise tools, skills and preparation that men need to be ready for their everyday 'Bond Moments'."
To celebrate the partnership, a SPECTRE/Gillette Fusion ProGlide razor with FlexBall Technology gift pack is available in stores in the UK. This is the perfect gift for men and will help them be prepared with the ultimate precision shave.
More information about the gift packs and "Bond Moments" can be found at Boots.