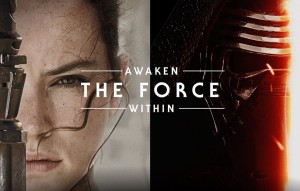 Google is giving its users the option to re-skin popular services such as Gmail, Maps & Search with a series of Star Wars flavoured visuals as hype builds ahead of the cinematic release of The Force Awakens.
To add an element of interactivity to proceedings Google has created a 'Choose Your Side' minigame that enables people to choose the light side or give into the dark side – giving their software the appearance of the Rebel Alliance or Empire.
As such Gmail users can ogle Star Wars background pictures whilst Google Maps locations are supplanted with chosen of Tie Fighters and Millenium Falcons and even YouTube's loading screen gets in on the act with a Force-themed makeover.
In a blog post Google's Clay Bavor wrote: "We reached out to our friends at Lucasfilm and Disney, and since then we've been working together on building google.com/starwars. It's a place for fans, by fans, and starting today you can choose the light or the dark side, and then watch your favorite Google apps like Gmail, Google Maps, YouTube, Chrome and many more transform to reflect your path."
In the days leading up to the 18 December release Google will unveil a number of new features including a Millenium Falcon rendered in virtual reality.