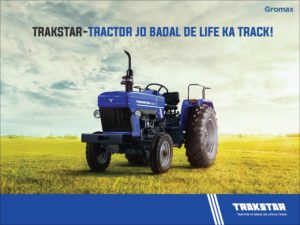 Scarecrow Communications and Gromax Agri Equipment Limited (formerly known as Mahindra Gujarat Tractor Ltd.) have launched a new tractor brand – Trakstar in the 30-50 HP category to transform the lives of Indian farmers.
Most Indian farmers still rely on traditional methods to prepare and harvest their fields. They are eager to accept technology and mechanisation that can enrich their lives, provided it is simple, effective and affordable.
Gromax is an agri-equipment entity that is committed to the cause of enhancing and enriching the lives of farmers across the nation with affordable mechanisation solutions. The company believes that life of a farmer in India can truly change only when he is able to derive the maximum growth. The company's affordable mechanisation solutions –Trakstar Tractors and Trakmate farm implements – endeavour to carry out this task.
Harish Chavan, Director, Gromax Agri Equipment Limited, said, "This is not the first time Mahindra is associating with Scarecrow team. They have previously worked on some of our brands like Trringo. We realised Scarecrow's approach to develop brand communication is something that we resonate with and we were more than confident to award the creative duties to them. From branding of the Tractor to coming up with company and implements names to developing positioning and communication for the brand, everything has been taken care of by Scarecrow, Mumbai."
Trakstar is all set to change the 'life ka track' (life's track) of Indian farmers by enabling them to get more from their land, making them more prosperous. It hopes to give them a firm standing in the society and make them walk and drive prouder.
The Campaign
Scarecrow Mumbai has been associated with the brand right from the inception stage; including giving the nomenclature and positioning of Trakstar as well as the parent company, Gromax. As a part of the communication strategy, Scarecrow has also designed an innovative animation film for Gromax which was showcased during the launch.
Amongst other communication tools, an inspiring song for Trakstar was created for the launch. Keerthi Sagathia, the well-known singer who has given a voice for songs of Teen Thay Bhai, Robot, Raanjhanaa and Raavan among others and Ravindra Upadhyay, Channel [V]'s Samsung Super Singer's winner and an acclaimed Bollywood singer have sung the track. It will from both, the audio identity and the soundtrack for the radio ads.
In addition to the creation of visual branding for Trakstar, Scarecrow is also handling the creative duties for the entire ATL and BTL communication. This includes TV commercial, Digital Film, Radio, Print, OOH, Retail Visual Identity, Media Launch as well as Roadshows, Skit and Engagement Ideas for the farmers.
Manish Bhatt, Founder Director, Scarecrow Communications said, "Mahindra has always been the leader in categories like Tractors and SUVs. This entire project has been a precious opportunity for Scarecrow. Though we have an extensive experience of working on similar projects where we played a key role in the formation of brands like the creation of &Pictures (for &Network, a part of Zee Entertainment Enterprises Ltd. and Essel Group), our association with Gromax is still an inspiring experience."
Arunava Sengupta, Founder Director, Scarecrow Communications said, "India being an agricultural country, it is very important to have a brand that touches the lives of farmers in true sense. Since Gromax and its flagship brand Trakstar meet the category's need of the hour, we are all geared up to bring something meaningful to the table."
Source: Scarecrow Communications