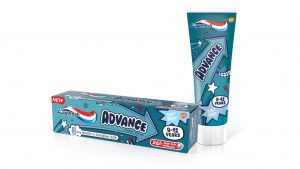 Tooth decay is the most common oral disease affecting children and young people in England. With this in mind, GSK is introducing its latest innovation in the kids' oral care category; new Aquafresh Advance for 9-12 year olds, to support parents in maintaining healthy teeth throughout their child's dental development.
Aquafresh Advance toothpaste has been specially designed by dental experts for children aged 9-12 years to provide expert protection for new permanent teeth. The six key benefits include: healthy gums, cavity prevention, enamel protection, gentle on teeth, fights plaque and cleans in-between gaps and spaces.
The launch of Aquafresh Advance will also include a new toothbrush, which features a small head, soft bristles, mixed bristle length and a cool design.
More permanent teeth arrive between the ages of 9-12 years old than at any other time, and the enamel is 50% more vulnerable to sugar acid attack. This is because it is softer and new permanent teeth take up to three years to reach full strength. However, most kids are transitioning to adult toothpaste from the age of 9 due to a lack of awareness of the continuing level of care needed for new big teeth, as well as the fact that there is currently no product on the market catering for this specific need.
By providing a specialist toothpaste for this age group, GSK aims to aid oral health development and support their independence at brush time.
Emma Pittendreigh, Aquafresh Senior Brand Manager at GSK, comments: "As the number one kids' oral health brand, we are committed to supporting parents and educating them throughout their child's tooth care journey. With such high levels of tooth decay in the UK, we must do all we can to help parents to protect their kids' teeth at all key developmental stages. The 9-12 stage can sometimes be over-looked by parents despite its importance, so new Aquafresh Advance toothpaste and toothbrush will help to protect teeth when they are at their most vulnerable. By developing a product specifically for this age group and by educating parents on the importance of using a specialist toothpaste, this should help to grow the kids' oral hygiene segment."
The Aquafresh Advance range will stand out on shelf thanks to its fresh design, created and validated by kids. The launch is being supported with a 360-campaign including digital, cinema advertising and a schools programme themed around invention which aims to drive oral health education amongst children aged between 9-12 years. The schools programme includes a competition open to every primary school in the UK which will go live from late March with the opportunity for a child and their class to win a once in a lifetime prize.
Source: GSK