The charity Guide Dogs is launching its latest DRTV advert to raise funds for its 'Sponsor a Puppy' campaign. Created by Proximity London, the activity aims to recruit new donors and increase the average gift by demonstrating the dramatic impact that a guide dog can have on someone's life.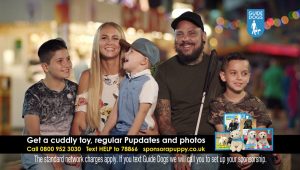 Every single day 250 people in the UK start to lose their sight and this can happen at any age. Currently there are over 800 people on the waiting list for a guide dog*.
Entitled 'Southend', the 60" spot takes a documentary style approach and tells the story of Sam, a young father and tattoo artist who lost his sight five years ago and is currently on the waiting list for a guide dog. In the ad, Sam shares his story, describing how his life suddenly changed overnight when he lost his sight and his career.
We hear how having a guide dog could help him lead a full and independent life again and fulfil his future ambition to become a counsellor to help others who have had a similar experience. An ambition inspired by the help he received after losing his sight.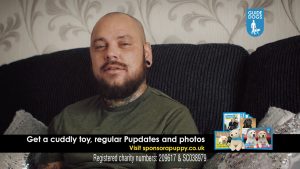 Filmed in both his family home and on the seafront in Southend, the ad follows Sam and his family going out together. On their journey, they cross paths with a young woman and her guide dog. The ad moves seamlessly between the two contrasting journeys, clearly demonstrating how a guide dog can unleash life's possibilities; providing freedom and independence.
The ad includes a call to action to sponsor a puppy from just £1 per week. In return, donors will receive a cuddly toy, regular 'pupdates' and photos of the puppy they have sponsored as it grows into a guide dog. 'Southend' is the latest in a series of successful adverts for the 'Sponsor a puppy' campaign, which also includes a Christmas campaign and always on activity throughout the year.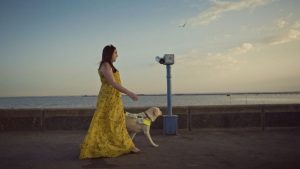 Stephanie Witt, Head of Committed Giving at Guide Dogs comments: "We are very fortunate to work with incredible people like Sam who are willing to talk about what a guide dog could mean for them and help us raise vital funds for our life-changing work.  The team worked closely with Proximity to bring Sam's story to life and create a beautiful advert that really showcases the difference a guide dog can make."
John Treacy, executive creative director at Proximity London adds: "Sam's story was so powerful. As soon as we heard it we knew it had the makings of a compelling ad that would build upon our previous work for Guide Dogs."
The ad was written by Fran Perillo and Art Directed by Paul Beier. The director was Morgan Hutchins. The production company was Arthur & Martha.
Source: Proximity London