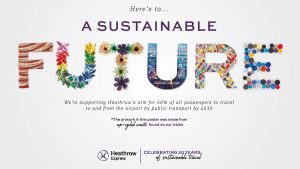 From November 14, hundreds of thousands of passengers using the arrivals walkway at Heathrow Terminal 2 will be told of the steps Heathrow Express has taken to promote sustainability, thanks to an innovative, new poster campaign by brand purpose consultancy, Given London.
Featuring individual, but strategically unified artworks, the 36-metre long posters mark the 20th anniversary of the airport express service by telling the story of Heathrow Express' sustainability journey over the past two decades. Launched today, the posters are positioned along the main walkway, in full view of passengers as they make their way to the baggage hall, a walk that typically takes about ten minutes.
The new posters will raise awareness amongst travellers of key sustainability proof points, such as how the number of female drivers exceeds the industry average, the work the company does in the community, the fact that their fleet of trains are all-electric and that children travel for free. The posters combine sustainability messaging with clever, hand-crafted sculptures by award-winning illustrator and paper sculptor Rebecca Sutherland created from up-cycled passenger waste discarded on the seats and floors of the Heathrow Express trains.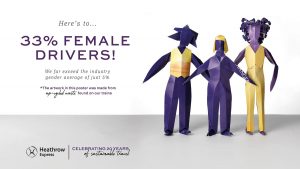 One of the posters, highlighting the 500 hours of community work Heathrow Express has given, features a typically British plate of fish and chips crafted as a clever, up-cycled paper sculpture. Drink cans have been repurposed, cut and moulded to create salt and pepper pots and a folded knife and fork, with a ring-pull used for the fish eye.  Another, illustrating how the train service has helped youngsters find jobs, comprises a collage of tiny silhouettes and figures cut from newspaper pages, showing people at work.
Sustainability messaging which avoids complexity
The brief Given London were handed was to celebrate 20 years of Heathrow Express while highlighting their sustainability credentials. Their instincts were to keep it simple and avoid the sort of complexity which can often exist in sustainability communications, diminishing its overall impact and message.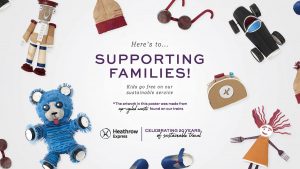 A high-level of clarity was particularly important on this project to grab the attention of people in a hurry, often laden with baggage, and either in conversation or distracted by their phones. So the message had to work in two ways; detailed and powerful enough to tell the story in full, but presented in a bite-sized way to catch the eye in a fleeting glance.
Matt Wright, Associate Creative Director at Given London said; "We wanted the posters to have impact at whatever point travellers' noticed them. Imagine you're a guest listening to a speech at a birthday party. If you arrived late and heard just one of the toasts you'd still understand it and be able to celebrate it. But if you heard the whole speech it would be even better. That's how we wanted to think about these posters. Heathrow Express' sustainability work has great substance but we wanted to ensure key messages weren't lost through complexity or because travellers were required to absorb the whole series."
Upcycled Waste – a clever idea which added an authentic look and feel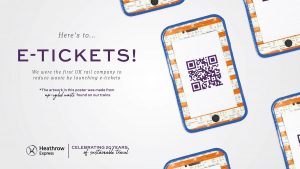 Wright explains that often sustainability communications can feel very polished, in an attempt to fit in and gain credibility with consumers, as part of a "digital cookie cutter world".
But he adds: "Consumers are more drawn to something that is real, tactile and tangible. So something with a hand-crafted touch and a personal feel resonated strongly. The trick was to find a central idea that was simple, bold and a little bit off the wall, so to speak. We also knew we didn't want lengthy word counts or complicated visuals. The starting point for our idea was a simple question: over the past 20 years, the Heathrow Express has dramatically reduced waste from its operations. How can we use the waste that's left over to help tell the story? The answer was to take the waste that's left on the trains and upcycle it."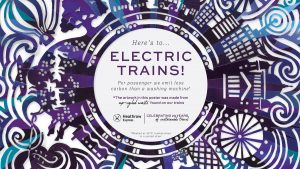 Early thinking was shaped by the sort of simple crafting techniques featured on Channel 4's Kirstie's Handmade Christmas. In fact, prior to pitching for the project, the Given London team had been on a workshop day turning waste offcuts into luxury items. With the concept agreed, they turned to the award-winning illustrator Rebecca Sutherland, who has worked with the likes of the Royal Mail, Waitrose and Virgin Atlantic and is known for her innovative use of paper and raw materials in creating art.
Using a range of techniques from origami to silhouette paper cut-outs, Rebecca created a series of mini-sculptures using everything from discarded tickets to plastic bottles and paper cups which were then photographed for the posters. She immediately understood the strength of giving rubbish a value in the way that supermarkets use the carrier bag tax to make people think about throwing them away: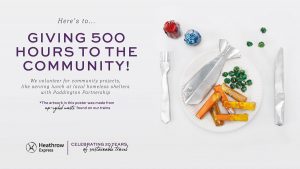 "My thinking was to create things that touched that sweet spot between being seen as refuse and a visually stunning image. We worked hard on getting that right. Just enough change so we can still see what it is," she said. "It's strange to say, but when I was clearing up from the project, I had around 15 cups left over. It seemed strange to throw them in the bin. This is because they had been a resource all week. They had been as valuable as my pencil or my scissors."
Given London was recommended for the project by Heathrow, having worked on the airport's 2.0 sustainability strategy. The consultancy, which works with leading brands such as John Lewis, IKEA and Diageo was recently shortlisted for an Ethical Corporation Responsible Business Award in the 'Communications Campaign of the Year' category for their work in encouraging Anglian Water customers to save water.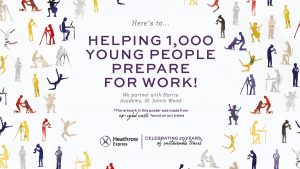 Chris Crauford, Head of Commercial at Heathrow Express said: "This is probably our most ambitious attempt to engage passengers in our sustainability credentials and bring our brand to life in a way that goes beyond the speed, reliability and customer service we're known for. We're proud of our position as a sustainable transport option with our diverse workforce, activities in the community and fully electric trains. This campaign has proved to be a striking and impactful way of celebrating 20 years of sustainable travel with Heathrow Express."
The Heathrow Express train service takes just 15 minutes between Heathrow Central and London Paddington. In the latest National Passenger Survey, the service received a 95 percent overall customer satisfaction rating.
Source: Given London