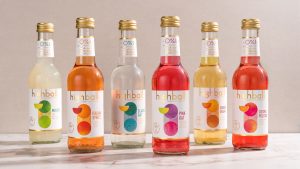 Design consultancy Path has partnered with The Original Free Drinks Company in the creation of Highball, a range of alcohol-free, ready-to-drink cocktails. Debuting in the UK this month, Highball offers an alternative adult drink experience with a bold expression that rings true to classic cocktail culture.
No and low alcohol is the fastest growing drinks sub-category with a significant number of consumers embracing healthier, lower alcohol lifestyles. Despite the success of non-alcoholic beer and distilled spirits, there has been relatively little development in the alcohol-free ready-to-drink sector.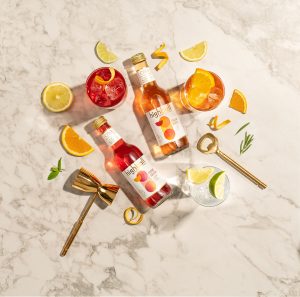 Recognising this opportunity, Kate and Red Johnson, founders of The Original Free Drinks Company, developed a premium range of classic and contemporary mixed drinks that replicate the original cocktail experience with authenticity and flavour – just without the alcohol.
The newly formed drinks company then briefed their creative partners at Path to bring the whole concept to life. Key to the challenge was to convey the double benefit of Highball – fantastic, authentic flavour with zero alcohol and half the calories of a regular cocktail. The full scope of the project included strategy, naming, branding, packaging design, production and website.
Working collaboratively, Path created a brand that is the definitive in cocktail language with an identity that reflects the art of mixology. The logo takes an abstract approach, using geometric shapes and line work to represent a cocktail in an iconic highball glass. Etched in metallic gold, the identity exudes premiumness, classic sophistication and modern edge.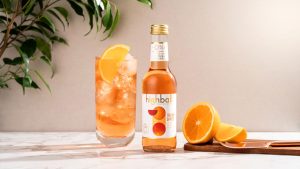 The strength of the identity is showcased on packaging. By adding vibrant colour and rich textures to the shapes of the logo, each label features a graphic illustration of a different cocktail. This makes a dynamic statement across the range whilst also telling evocative flavour stories. Clear communication of the brand's 0% ABV message in clean, uncluttered gold typography adds a final touch of sophistication and class.
"Designing the UK's first range of alcohol-free, ready-to-drink cocktails was an opportunity for us to create something relevant and iconic," comments Amy Rees, Design Director at Path. "The identity is fresh and unique enough to appeal to modern tastes, whilst also being refined and sophisticated enough to be credible as an adult beverage. Working on both these levels, the identity will help Highball pique the curiosity and favour of Millennials and Gen Z."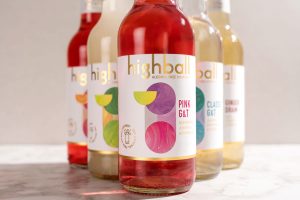 Path was also tasked with creating a brand identity for The Original Free Drinks Company to support the company's ambition to set the modern standard for zero alcohol experiences. The new logo represents zero-percent proof drinks in a fresh new way.
Kate Johnson, co-founder of The Original Free Drinks Company, comments: "We are passionate about providing consumers with great tasting mixed drink alternatives that are low in calories and alcohol-free. With sophisticated branding and packaging, the identity Path helped us create for Highball successfully shows that a non-alcoholic experience does not require a compromise. Consumers can enjoy the high-quality flavour of their favourite cocktails, even discover new cocktails, whilst instilled with the confidence in their positive alcohol-free choices."
Source: Path