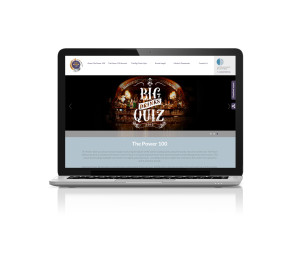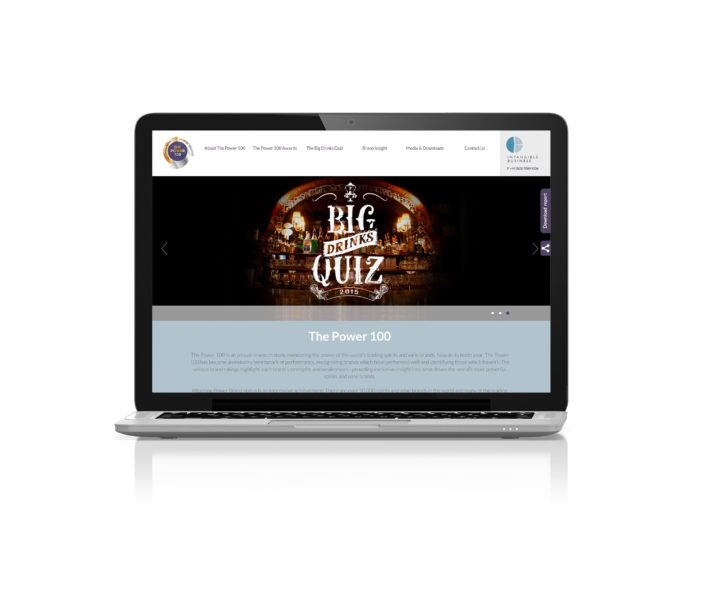 To coincide with the 10th Anniversary of its Power 100 report – the annual research study monitoring the power of the world's leading spirits and wine brands – Intangible Business has launched The Big Drinks Quiz, created with and designed by Greenwich Design, to raise awareness of the report amongst the drinks industry.
The Power 100 has become an industry benchmark of performance over the past 10 years, recognising brands which have performed well and identifying those that haven't, as well as providing exclusive insight into what drives the world's most powerful spirits and wine brands.
As part of the project, Greenwich Design was briefed to refresh Intangible Business' Drinks Power Brands website – to optimise for mobile and make more user friendly. Greenwich was also asked to create an e-shot, linking Intangible Business to the Power 100 report and to design a microsite for 'The Big Drinks quiz.'
The Power 100 site has been simplified with clean imagery, a white background and intuitive, responsive menu bars. A rolling slideshow has been added to the homepage to raise the profile of important pages within the site, making it easier for users to find relevant information and provide clarity around the link with the built-in Big Drinks Quiz microsite. Social sharing functionality with bold icons were also added to encourage users to share and drive traffic to the website as well as a data capture element for Power 100 report downloads to allow Intangible Business to collect contact data.
The Big Drinks Quiz creative had to appeal to drinks industry professionals, with a social and fun element also. Greenwich Design created a retro dive-bar theme, giving the microsite and branding a well-worn yet appealing first impression. Authentic sign-written fonts were selected for headlining and the closing screen of the quiz and similar ornamentation was used for the question pages to continue the theme.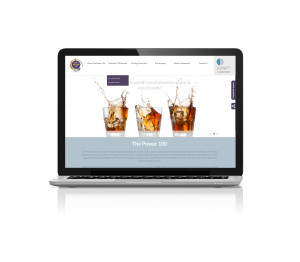 Priya Mistry, Marketing Manager at Intangible Business, said: "We are delighted with the new, slick site and The Big Drinks Quiz. We wanted to produce something to create more excitement as the Power 100 reached its 10th Anniversary and Greenwich Design went above and beyond our expectations..
"The Big Drinks Quiz has successfully created a lot of buzz surrounding the Power 100 report and was a big hit with both drinks industry professionals and consumers. The website was also vastly improved creating a clean mobile-friendly design that allowed us to display our drinks brand activity alongside our brand valuation services."
Dan Bramham, Senior Designer at Greenwich Design, adds: "We have really enjoyed working with Intangible Business and are very pleased with the volume of traffic driven to the site through the Big Drinks Quiz so far already. This project is a great example of our versatility as a creative studio. Two contrasting styles designed in tandem working together to create a professional site with an injection of fun to represent the industry."