Nova Eyewear's latest campaign featuring their brand ambassador Jacqueline Fernandes has been rolled out recently. The campaign has been conceptualised by Rediffusion and it modishly showcases Nova's line of products that are modish, urbane and serves eye care needs.
The campaign film theme of 'vision meets fashion' showcases how the wide range of its high fashion eyewear line plays a significant role in Jacqueline's day today activities and various occasions by complementing her style and fulfilling her eye-care needs whether in office or outdoors, by the beach or at a party.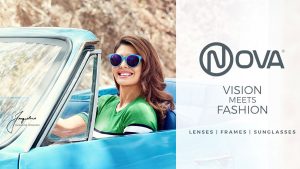 "We take great pride in introducing Nova Eyewear's TVC featuring its first ever brand ambassador Jacqueline Fernandez. A famous face synonymous with international fashion, well known for her great sense of fashion and dynamic lifestyle, Jacqueline makes the perfect choice to represent Nova's range of trendy eyewear (powered sunglasses, lens & frames), which exhibit sheer sophistication and style and ensures that people with eye power do not need to compromise with aesthetics when it comes to outdoor eye protection. We are sure that Jacqueline's association with Nova will not only help to elevate the regular style codes of the generation and make them conscious about advanced vision solutions that are available for them," commented Pammi Jamalpuria, VP Corporate Marketing, Vision Rx Lab.
"The core idea was to depict a day in Jacqueline's life where Nova lens and sunglasses are present in every occasion. It not only gives her a clear vision but also adds on to her fashion quotient. This is the promise of the brand for its users," said Nilanjan Dasgupta & Piyash Ghosh, EVP & ECD at Rediffusion.
Source: Rediffusion