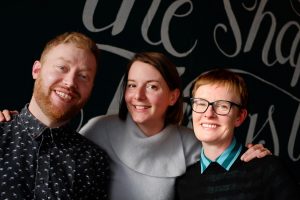 International strategic design agency JDO is pleased to announce its newly appointed leadership team of their London studio.
Client service and brand expert Maree McNicol will be taking the reins as Client Business Director, whilst award-winning designer Bronwen Westrip will be joining as Creative Director.
Completing the team is John Worthington, who will serve as Design Director.  These appointments support the strategic design consultancy's commitment to propel the business forward with a dynamic global offering that delivers creative excellence, drives innovation and creates belief.
As a member of the JDO's worldwide management team, McNicol will drive global client initiatives as well as develop new business opportunities.
With 15 years of industry experience, she will support clients in their brand challenges with robust strategic expertise and innovative design-led solutions.
Prior to joining JDO, Maree served as acting Head of Client Service at Coley Porter Bell where she worked with established companies such as Edrington, Unilever, and Coca-Cola.
As Creative Director of JDO London, Westrip will be responsible for using innovative thinking, conceptual design, and creative storytelling in surprising ways that build meaningful, unforgettable brand experiences.
With 18 years of experience, Bronwen has had the opportunity to work with the world's most notable companies, from FMCG giants such as ABInBev, MARS, and Britvic to prominent organisations such as Cancer Research UK and the Ethiopian Government.
She has won a multitude of international awards for her design work including accolades from the D&AD, DBA, and the Pentawards. Prior to joining JDO, Westrip worked for agencies Brandhouse and Coley Porter Bell.
"With its strong reputation for world-class design and branding, our London studio is in an ideal position to act as an effective central hub for JDO's global offering," says JDO Managing Director Fiona Florence. "Maree, Bronwen and John bring such a wealth of talent and experience to our team that will no doubt reinforce our role as brand guardians committed to providing our clients with beautiful and brave work that supports their brand strategies and drives value."
"I've long been an admirer of JDO, thoroughly impressed with the level of creative brilliance of their strategic brand solutions," comments McNicol. "I'm excited to be part of the leadership team in London, and to support the worldwide group in strengthening our current client relationships as well as diversifying our opportunities in new markets."
Westrip comments, "What attracted me to JDO was the opportunity to explore a new creative direction with a group of highly-talented and passionate people that uphold impeccable design standards. I'm thrilled to join the London team, and to do my part to further establish JDO's reputation as one of the world's leading brand design consultancies."
Source: JDO