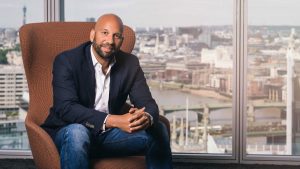 Global digital agency Jellyfish has announced that it is to double its office space in The Shard as it continues to experience significant growth. The official move will take place in July.
Jellyfish added The Shard to its existing office locations in Reigate and Brighton in 2016, when it secured 9,017 sq ft on level 22 of the iconic London Bridge building. This gave the agency its first London presence and became its new headquarters. Two years on, Jellyfish will expand with an additional 10,000 sq ft on level 28, the very top of the office space within the building.
The agency, which has seen 45% growth year-on-year for the last six consecutive years, is continuing to build its global presence at a rapid rate. The expansion of its London footprint follows the launch of a New York office earlier this year. Further office openings across EMEA are planned for the coming months.
Jellyfish's new space on level 28 of The Shard will accommodate growing data and analytics teams as well as additional Jellyfish Training suites, offering courses across all areas of digital marketing. It also marks the continued success of the agency's relationship with Google as a DoubleClick Marketing Partner (DCMP)
Rob Pierre, CEO of Jellyfish comments: "When we moved our headquarters to The Shard two years ago, we didn't realise just how much of an impact 'The Shard Factor' would have on our business. It's a fantastic place to meet clients, run pitches, host events and carry out our industry-leading training courses. Expanding with additional space in The Shard is the natural next step as we continue to scale."
Michael Baker, CEO of Real Estate Management (UK) Limited, the asset manager of The Shard, said: "We are delighted that Jellyfish continues to grow and is able to expand its London HQ within The Shard offices. We are pleased to be able to accommodate this growth which demonstrates the building's and wider London Bridge area's appeal to the digital media sector."
Source: Jellyfish