Specsavers in-house creative team has kick-started 2016 with a new high profile TV-led campaign featuring the inimitable actor and comedian John Cleese.
Reprising his iconic role as the irascible Basil Fawlty, the TV commercial sees John Cleese recreate one of Fawlty Towers' most famous scenes. The comic legend gets into an argument with his car's automated voice control and so decides to give it a 'damned good thrashing'. But the classic sketch has an extra twist at the end and, of course, he should've gone to Specsavers.
Specsavers Creative chose to develop the idea around Basil Fawlty because he's an iconic British character who resonates deeply with the key target demographic, while also appealing widely to younger customers. The team worked closely with John Cleese throughout the entire project, including on script development.
The commercial was helmed by master of comedy performance, Blink director, Tim Bullock. Bullock previously worked with Specsavers on its highly successful 2013 'Vet' and 'Bingo' TV campaigns.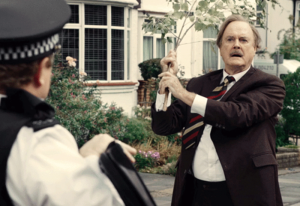 The campaign will be amplified digitally by a behind-the-scenes interview with John Cleese, hosted across Specsavers' social channels. In the clip, Cleese talks about Fawlty Towers, the original car-thrashing scene and why he chose to work with Specsavers. Additionally, the campaign will run the #shouldve hashtag to gather all 'Should've' content in one place.
Specsavers' Marketing Director, Richard Holmes, said: "It is getting harder and harder to achieve real cut though in any media. John Cleese is one of the towering figures of comedy and we are confident that bringing Basil Fawlty back to our screens will resonate hugely with our key audiences."
Specsavers' Creative Director, Graham Daldry, said: "We realised that bringing back Basil Fawlty would have relevance for our brand some time ago, and we were delighted that John Cleese was so positive about working with us. We believe that the outcome succeeds in revisiting one of the most memorable moments in British comedy in a way that is essentially Specsavers."