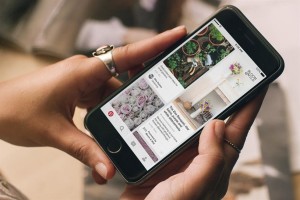 Pinterest has rolled out its Promoted Pins service in the UK, the first country outside of the US where advertising has been introduced into its model.
The photo-sharing platform, which debuted Promoted Pins in the US in 2015, has launched in the UK with brands including John Lewis, B&Q, Nestlé and Tesco.
Users of Pinterest – known as "Pinners" – grew by 50 per cent last year, with an average of three million Pins saved each day, according to the company.
Pinterest said more than 75 per cent of all Pins saved come from businesses, and so Promoted Pins do not interrupt or distract Pinners.
Adele Cooper, the UK country manager for Pinterest, said: "Ideas from businesses actually help people get closer to finding the products and services that are right for them. Promoted Pins make it easier for brands to reach people who are in that 'consideration mindset' – open to inspiration from credible sources. No other platform has an audience this receptive. In return, Promoted Pins are proven to help businesses achieve their marketing goals from building brand equity to driving online sales."
Pinterest plans to open Promoted Pins up to more English-speaking markets in the second half of 2016.