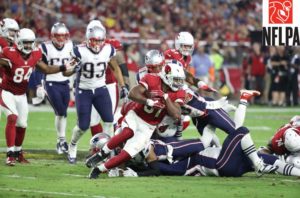 Just for Men has confirmed its UK sponsorship agreement with the National Football League (NFL), which commences from August 2017. The leader in men's hair colour is looking to drive awareness and accelerate growth by investing half a million into marketing during this season alone.
The milestone deal will see Just for Men serve as the Official Sponsor of the NFL in the UK and Ireland, as well as in Germany and France until 2020. Under the terms of the agreement, the undisputed leader in men's hair colour with over 90% share of market (SOM) will be integrated across the league's major events and initiatives, including the London Games.
With research indicating that nearly half (47%) of NFL fans are more likely than the average male population to use colourants, Just for Men and NFL UK are well aligned to engage mutual audiences.
Just for Men aims to drive reach among its existing users while simultaneously targeting NFL fans, encouraging them to consider and trial products from the Just for Men portfolio. The Just for Men portfolio includes: Original Formula, Autostop, Moustache & Beard and the ground-breaking new addition to the range, Control GX Grey-Reducing Shampoo, an innovative new product that is making waves with shoppers nationwide.
Clare Want, Managing Director of Just for Men, comments, "As the leader in grey-reducing male haircare, Just for Men is going from strength to strength with sales predicted to grow by 10% in 2017. Partnering in the UK with the NFL – an international, heavyweight brand – is a great milestone for Just for Men and will help the brand to further stamp its authority on the market. We look forward to engaging with a new audience and seeing how our fans react to the collaboration. We are excited to see how our fan base grows and give men the hair confidence they deserve."
Luis A. Mendez, Head of Marketing for Just for Men adds, "In 2017 we will be supporting the partnership with an agile 360 media campaign, including experiential and PR activities, as well as promotions with selected retailers to bring the partnership to life in-store. With half of men watching between three and five hours of TV during the week and weekend the messaging will also be broadcasted via tactically positioned TV advertising. Social media will play a key role in amplifying the partnership with interactive content aimed to reduce any 'grey areas' that UK men have around the NFL, from understanding the sport's rules, to Q&As with some of the key players. The NFL will also be supporting Just for Men on its owned channels. With activity driving footfall into store, this is a key opportunity for retailers to ensure they are stocked to meet consumer demand."
Melissa Brown, NFL UK's vice-president of commercial partnerships, said: "Just for Men has a long-standing link with sport so we see them as an ideal partner. We look forward to working with them to broaden the reach of the NFL and introduce more and more people to the sport."
Source: Just for Men