DFS is launching a 30-second TV campaign, created by krow Communications, part of the mission, breaking on 19th March and running for 13 weeks across the UK and Ireland.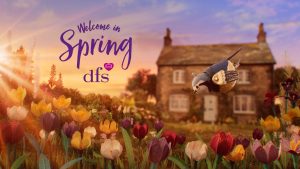 The commercial, 'Welcome in Spring', continues the series of DFS ads to feature Aardman-designed characters and celebrates the feeling of renewal provided by the first day of spring while emphasising the comfort provided by DFS sofas.
It shows an entire street burst into life as spring arrives, with the choreographed, musical-style action triggered by a dust sheet being whipped off a DFS Spring Collection sofa that's in the middle of a newly decorated room.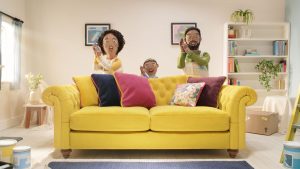 In time with the music, Georgie Fame's 'Let the Sunshine In', the action spreads down the entire street as windows are flung open and spring is welcomed in. The film ends with the line "Making everyday more comfortable."
Jo Jephcott and Gemma Galvin, creatives at krow Communications said: "We wanted to inspire people to invite a little sunshine into their homes with an upbeat ad celebrating the joys of spring. It's always bloomin' lovely to work with Magda and the team at Aardman. The attention to detail and craft they bring is second to none. We hope people enjoy watching this ad as much as we enjoyed making it."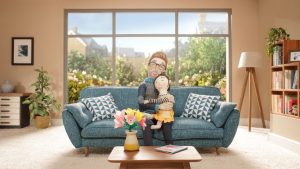 Nick Ashworth, Marketing Director at DFS, said: "At DFS, we are proud of the breadth of our range and how our sofas can therefore bring new life and energy into any home. Through the charm of Aardman, we wanted to shine a light on this. The result is a fun, energetic and bright ad – perfect for the spring time."
Source: krow Communications