DFS is launching a new campaign, created by krow communications, airing from 25 September and running for five weeks across the UK and the Republic of Ireland.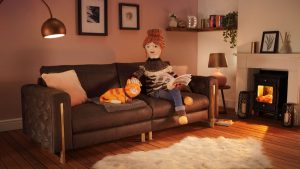 Entitled 'Time to snuggle up', the 30-second spot shows an autumnal season of burnt orange leaves falling and glowing fires, with people up and down a terraced street having put the heating on to warm the arriving chill from their bones.
It depicts the time when consumers begin to hunker down, seek comfort and snuggle on the sofa; when making their homes feel cosy is what it's all about.
The idea behind the ad is that DFS sofas can make the cosy season more comfortable, while its handmade products are guaranteed to be delivered before Christmas.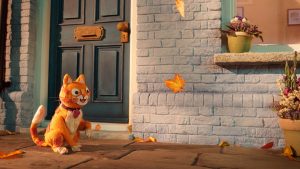 The campaign is the ninth for DFS featuring Aardman-designed characters. But this one centres on Pumpkin, a little cat. Much like DFS, cats are real connoisseurs of comfort.
The ad follows Pumpkin as she searches for comfort, only to find it at home, on her very own DFS sofa. On her journey she peeks into other homes and sees people enjoying the comfort of their DFS sofas, spurring her on to get out of the cold and back into her own comfy spot – a sentiment we're all familiar with on a blustery autumnal night.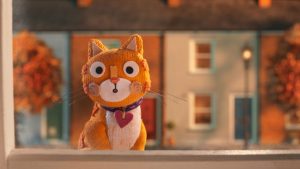 Nick Ashworth, Marketing Director at DFS commented: "We know, through our research that consumers feel more compelled to spend time indoors at this time of year. Seeking cosy contentment in the warmth of their living rooms is a simple pleasure we have second-to-none experience in helping customers achieve and the advert shows this by highlighting everyday sofa moments through the eyes of Pumpkin the cat. The 30″ edit focuses on that all-important comfort factor and creates a balance with our more rational shorter time length ads which focus more on promotional messaging as value for money continues to play an important role in our sales activation."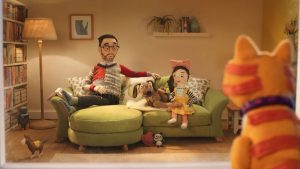 Credits:
Art Director: Jo Jephcott
Copywriter: Gemma Galvin
Creative Directors: Darryl George, Jon Mitchell
ECD: Nick Hastings
Business Director: Sarah Keates
Agency Producer: Emma Rookledge
Director: Magdalena Osinska
Production company.: Aardman
Producer: Nick Miller
Editor: Dan Williamson & Dan Pask
Post production: Aardman
Sound Design: Evolutions (Bristol)/Jungle (London)
DoP: Simon Jacobs
Media planning/buying: Mediacom
Source: krow Communications