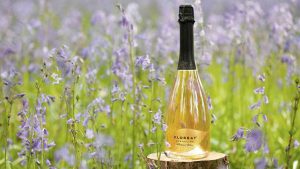 A new sparkling botanic wine created with therapeutic herbs has now launched to the UK market, with identity and brand design by leading brand agency Lewis Moberly. At 5.4% ABV, Floreat is a lower alcohol wine made with a special blend of high-quality botanicals, with each herb carefully selected for its health and wellness properties.
Crafted by qualified medical herbalist and former Diageo executive Anne-Marie Hurst in partnership with chemist Fred Hollamby-Jones and sommelier Andrew Mclean, Floreat is a modern take on tonic wine that addresses a global shift towards more mindful living.

Each of the five botanicals in every bottle of Floreat has been selected for its therapeutic advantages and flavour properties, resulting in a crisp and zesty liquid with benefits that range from antioxidants to a digestive tonic.
Mary Lewis, Creative Director, Lewis Moberly, says: "Anne-Marie challenged us to create a disruptive identity for her new range and create the parent company identity for The Flower Miners. The champagne category, where Floreat will sit alongside, is established and traditional. As a sparkling botanic wine the identity for Floreat is appropriately disruptive, not noisy or gimmicky, offering something new to the category. This was an opportunity to let simplicity take the stage, creating an engaging, tactile experience."
To capture the young brand's position as a pioneer of sophisticated sparkling botanic wines and reflect the ambiance and wellness properties of the liquid, Lewis Moberly created the name Floreat, the Latin term for 'let flourish', setting the tone for how the wider brand would behave.
"The bold brand name creates the right tension with the gilded details of the label," says Mary.
The silhouette of the bottle sits proudly in the premium champagne category, elevating the brand with a simple, clean and elegant aesthetic finished with a gilded tactile intricacy that speaks to a modern and wellbeing-focused drinker.
For the label design, Lewis Moberly avoided the more traditional champagne category codes of heavy house marks and ornate graphics, introducing a die cut leaf shape finished with a filigree effect, celebrating the natural properties of the botanicals and signalling a new type of product experience. Clear glass allows the rich colour of the liquid to shine through and celebrates the effervescence of the product.
Encircling the neck of the bottle is the mark of parent brand The Flower Miners. Three interconnected leaf shapes form the mark, representing the three experts behind the brand – the herbalist, the chemist and the sommelier – and underscoring their expertise in the natural world.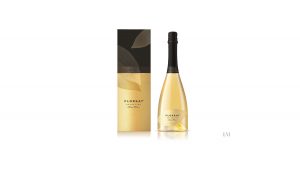 Anne-Marie Hurst, Founder of Floreat, says: "Lewis Moberly has shown their brilliance in creating Floreat, bringing to life an iconic design for a new category of sparkling botanic wine. They have perfectly balanced the need for a contemporary fresh product design with the need to reinvent a traditional sparkling wine category. It was a challenging and difficult brief which they have delivered with a great deal of verve. I have thoroughly enjoyed every minute of working with Mary and the entire Lewis Moberly team."
Source: Lewis Moberly