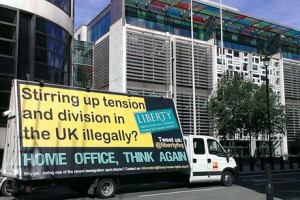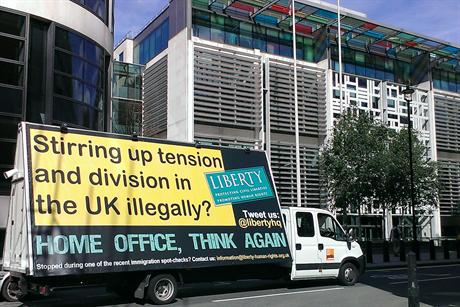 Liberty, the civil liberties and human rights campaign group, has launched a mobile billboard to hit back at the Home Office's anti-illegal immigration mobile campaign.
Liberty's van, which hit the streets of London today, asks the Home Office to "Think again" about its anti-illegal immigration tactics, which also included random visa checks and Twitter updates about illegal-immigration arrests.
The mobile response carries the slogan, "Stirring up tension and division in the UK illegally? Home Office, think again", attacking the Government department van's slogan, "In the UK illegally? Go home or face arrest."
The creative side and copy writing for the campaign was done in-house, and outdoor advertising company Gorilla Media rented out the van and printed the billboard.
The van will circle the Home Office and Westminster in the morning, and then travel to Kensal Green and Walthamstow, the two London boroughs targeted by the spot checks.
Isabella Sankey, the director of policy at Liberty, said: "What better way to sow mistrust and division than the latest Home Office activities? Offensive vans pedalling racist slogans and spot checks on the streets are as un-British as they are unlawful."
The Home Office's mobile billboard campaign faced widespread criticism after it launched a few weeks ago, with many taking to Twitter to complain using the hashtag #racistvan. Campaign also listed the van ad as Campaign Live's turkey of the week last week.