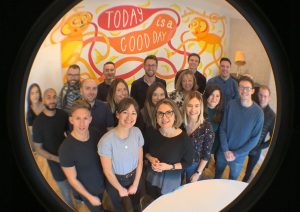 Integrated creative agency, LIFE, launched #365daysofgood campaign which will celebrate the positive actions of brands every day throughout 2019. The initiative is designed to show how brands can be powerful and important driving forces for change, be it through major projects or smaller actions that make people's lives a little better every day.
For the past 11 years, LIFE has focused on work that is both commercially successful and does good, working for major brands such as Carlsberg, Coca Cola and Whitbread.
#365daysofgood will be a way of counteracting some of the major challenges in 2019, which is set to be another turbulent and pivotal year for many around the world:

However, as LIFE is set to highlight, brands can be a force for good whilst also achieving significant commercial success. Good brand actions will be curated and shared on social channels every day throughout the year, using #365daysofgood.
"Producing work that's 'good' isn't just a nice-to-have – it's a commercially astute objective. Whether you like the word 'purpose' or not, it's proven that brands that are seen taking positive action have a significant advantage," comments Rachel Deacon, MD of LIFE.
"They build preference, trust and long-term commercial strength. At LIFE we like to make brands famous for good reasons. It's a simple idea that sums up our agency ambition and builds a competitive advantage for our clients. #365daysofgood will use five minutes every day throughout 2019 to highlight the wide range of brands that are taking positive action – from agile start-ups to some surprisingly big players and from large-scale business-wide initiatives to small steps in the right direction. It's all good to us."
Based in Birmingham, LIFE is an integrated creative agency working alongside brands such as Carlsberg, Coca-Cola, Bayer, Whitbread and Dr. Oetker. #365daysofgood will run throughout 2019 highlighting how brands are making positive change happen. 
Source: LIFE