Lottoland, a global leader in lotto-betting, revealed a new multi-media campaign which breaks in the UK from 25 January, 2018. This is the first work for Lottoland by creative agency Nonsense, since they won the account, in a three-agency competitive pitch in November 2017.
The lead film and content, "Pies", literally – and slightly disturbingly – demonstrates that Lottoland gives you the opportunity to have your 'fingers in more pies', by betting on over 30 lotteries from around the world, not just in the UK.
The campaign targets 25-45 year olds, and will first launch in the ad-break of Hunted on Channel 4 on Thursday 25 at 9pm, and will appear in broadcast programming including Through the Keyhole on ITV. A comprehensive three-month media schedule, planned and bought by Home, features UK broadcast TV, dynamic TV, broadcast VOD, social media, pre-rolls, radio, OOH and digital display.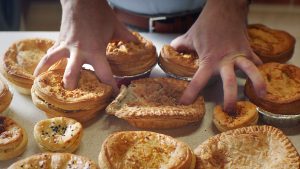 As part of the content creation approach by Nonsense, all the executions were shot in one day by Sebastian Hedin through Hobby Films – encompassing three TVC edits, 20 social executions, radio, OOH, digital display and 200 Sky Dynamic variants to respond to live information updates in real-time.
Dan Sherratt, UK Head of Marketing of Lottoland said, "The gaming arena is highly competitive and we needed a creative idea that stands out. The team at Nonsense delivered, and the film clearly puts the message across, with humour."
Rob Mosley, Creative Partner at Nonsense, added, "We knew this simple-yet-weird analogy would provide cut-through for this audience – and we're looking forward to raising awareness of how Lottoland enables you to bet on different lotteries from all around the world. Shooting content featuring a guy fingering pies without it being creepy was a real challenge… but we think we cracked it!"
Lottoland gives you choice and value in lotto-betting, where you can pick numbers and place a bet on how likely they are to be drawn across over 30 lotteries from around the world.
Source: Nonsense