LV=, the insurance and savings provider, has launched a multimillion-pound ad campaign to promote the benefits of its car insurance policies.
Three separate TV ads, created by Designate and 24-7ideas.com, highlight different aspects of LV='s car insurance offer – its low cost, the multicar savings available, and the 75 per cent no-claims discount.
The campaign uses the green hearts that have been in LV= ad campaigns since 2007. This time they take the form of umbrellas and structures in a street carnival, alongside a marching band, Bollywood dancers and a contortionist.
John O'Sullivan at 24-7ideas.com was the creative director and Niall Downing directed the ads through Partizan. Post production was by Absolute London.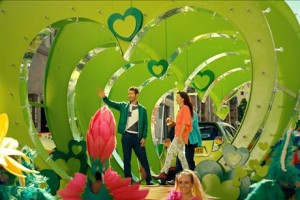 The ad features an updated version of the 'Dum Diddy Dum' music featured in previous campaigns by the lead singer from nineties band Freak Power.
Guy Hedger, the marketing director of LV= general insurance, said: "Since the launch of our last TV campaign, LV= has continued to grow and we are now the third-largest car insurer.
"We have refreshed our branding in this campaign, but have kept elements such as the LV= green heart and the music to allow us to build on our successful brand awareness.
"While the consistent branding is key, it is also important to communicate that we offer low-price products and these messages are very prominent throughout all three ads."