Macmillan Cancer Support's campaign to encourage people to register for its free will-writing service has garnered strong results following a month of marketing to support the initiative.
The charity's nationwide campaign has been backed by a new 60-second DRTV ad, along with radio and digital executions including Facebook videos, throughout September. The campaign was developed by WPNC.
Macmillan's Free Will Service was launched in July after the organisation had success with its programme of Free Will Months. The aim is to encourage men and women aged 55 and over – with a particular focus on those aged 65-plus and people who have benefitted from Macmillan services – to register for a free will. People who register may also consider supporting the charity by leaving a small gift to it when writing their will.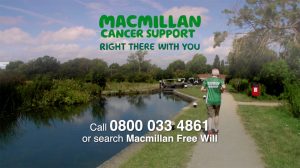 The marketing campaign has focused on helping people overcome their barriers to making wills and leaving a gift. Perceived issues include the cost and complexity of writing a will, and making a pledge when the money could instead be left to family and friends. Since the beginning of September, Macmillan has seen thousands of people register for its Free Will Service.
Carole Guiet, WPNC Account Director, says: "As an agency, we are passionate about legacy and driving awareness of Macmillan's services. We know that people are aware they should have a will, but there are barriers such as time, cost, convenience and thinking about death. Through the campaign, we are asking them to reconsider writing or amending a will using this fantastic free service, while pledging to help Macmillan continue its crucial work long into the future."
Domino MacNaughton, Head of Legacy Promotions at Macmillan, adds: "The legacy market will be worth nearly £3.5bn by 2026. Gifts in wills are essential to the future of Macmillan's work and we're delighted with the amount of sign-ups to our Free Will Service during the campaign."
Source: WPNC