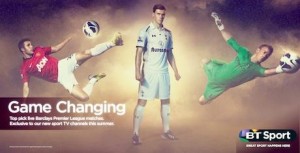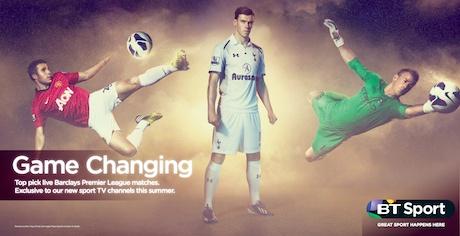 The launch of BT Sport on August 1 will be backed by major advertisers keen to tap into the consumer interest around how its content will match up to Sky Sports.
Brands including Adidas, Barclays, Microsoft, O2, KFC, Ladbrokes and Carling will be among the advertisers appearing in the commercial breaks when BT Sport's two channels switch on for the first time at 6pm this evening.
Advertisers are likely to benefit from interest sparked by the major marketing campaign that has run up to the launch day, which stars Tottenham midfielder Gareth Bale, who has been thrust into the spotlight in recent weeks as rumours circulate about his future at the North London club.
Channel 4 handles BT Sport's ad sales and has been offering media agencies "gold, silver and bronze" packages, which has been priced "competitively" versus Sky Sports because audience viewing figures are likely to be lower than Sky's in the first few months following the launch as the channels slowly gain momentum.
Both BT and Channel 4 have also been aggressively marketing the ad innovations BT Sport can offer clients – such as live ads, second screen campaigns and product placements – across a series of events and meetings with the media and marketing community.
Channel 4 sales director Jonathan Allan told Marketing Week: "A massive factor in the success of this launch has been the amount of marketing effort from BT Sport. Buyers are consumers too and they can see quite clearly that BT is totally committed to these channels and is committed for the long-term. Everyone was gobsmacked when BT announced [it was to offer its channels for free to broadband customers] – even we didn't know they were going to do that – and it's great to have new competition to access Premier League sport."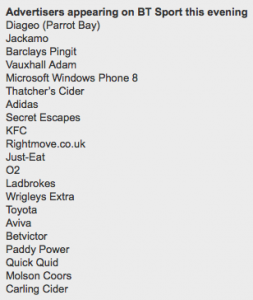 Warren Dubock, media director at Carat – which counts Adidas, Diageo, British Gas and Vauxhall among its clients – says BT Sport offers marketers an "efficient" way to get access to key Premiership games, that were previously monopolised by Sky.
He adds: "All media owners are trying to do things across the second screen, with app interaction and other ad innovations. BT Sport will be an opportunity for clients to lead on those kind of innovations. Certainly Channel 4 has done a great job in the VOD marketplace so I would expect things like that to be rolled out across BT Sport in the coming months."
The BT Sport TV channels will be available free to its broadband customers for the first year and from £12 a month to those without. Customers can watch BT Sport via their YouView boxes, Vision boxes, Sky boxes, online and via its dedicated app, which will also contain additional content.
BT Sport has the rights to show 38 exclusive live Premier League football matches a season – including 18 top pick games. It has also secured the rights to broadcast top tier matches from international football leagues, the Aviva Premiership, top flight tennis, UFC, Moto GP and other sports.
Elsewhere Sky is advertising heavily across national newspapers with a campaign stating it guarantees "the best price for unlimited broadband and BT Sport. That's including line rental too". The Sun is also continuing to promote its new paid-for online offering Sun+, which includes digital and mobile access to Premier League highlights.