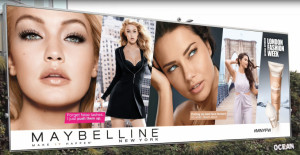 Maybelline has partnered with British Fashion Council (BFC) to launch a new multimedia campaign to celebrate 2016's London Fashion Week. The partnership between all agencies involved has been managed by media agency Maxus.
Maybelline will stream six full fashion shows (Felder Felber, Fyodor Golan, Temperley, Osman, Ashish and Xiao Li) from the 2016 Fashion Week on all Maybelline-owned channels, including YouTube. The activity will be supported by a dedicated social media campaign that will drive Maybelline followers to view the content.
The activity will also see Maybelline advertising idents run before and after the British Fashion Council's daily highlights package.
The highlights package and full streamed fashion shows will be broadcast in key UK cities, including London, Birmingham, Leeds, Liverpool, Manchester and Glasgow, on Ocean Outdoor digital screens.
The campaign, which targets young urban audiences based outside London, aims to bring the excitement of London Fashion Week directly to consumers, while also celebrating Maybelline's two year sponsorship of London Fashion Week.
Idents have been created by Maybelline in collaboration with Ocean Outdoor, while the daily highlights package will be curated by the British Fashion Council.
Maxus is also responsible for the media and planning strategy for Maybelline's live streaming activity.
Shivani Shah, marketing director at Maybelline, said: "We are excited to amplify our London Fashion Week sponsorship and make the week more accessible to all."
Neil Tookey, head of radio and OOH investment at Maxus, added: "To date, outdoor has played an important role in reaching Maybelline's key young, urban audience, but reach has been limited to London. By taking over Ocean Outdoor's digital screens, we have the opportunity to give the Maybelline brand some monumental exposure and link it to London's hottest fashion event of the year."
The campaign will run for the duration of London Fashion Week between 19th February and 23rd February.