M&C Saatchi London has unveiled an integrated campaign for Dorset Cereals targeting young urban families and encouraging them to slow down for breakfast.
The 30 second ad is set in a kitchen, with a women talking to the camera about how breakfast has evolved into something we have on the go, or miss altogether. The ad continues in slow motion ending with the idea of taking the 'fast' out of breakfast.
M&C Saatchi and Dorset Cereals have developed a new digital-first communications strategy to increase premium appeal amongst young urban families and drive trial.
Justin Tindall, Chief Creative Officer at M&C Saatchi said: "We're thrilled to be working with Dorset Cereals. It's a brand that shares our creative ambition and we're excited to launch them into the next stage of their journey."
The online film will spearhead the campaign with subsequent ongoing engagement planned through social-led competitions, along with influencer activity and experiential activation to further engage with parents.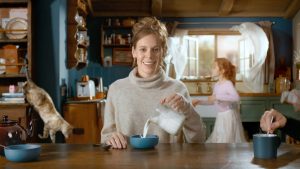 Credits:
Client: Dorset Cereals
Agency: M&C Saatchi
Creative Directors: Matt Collier. Wayne Robinson
Group Chief Creative Officer: Justin Tindall
Account Director: Matt Hennell
Planner: Jasper Hunter
TV Producer: Angela Zabala
Production Company: Bare Films
Director: Gus Filgate
Executive producer: Helen Hadfield
DOP: Keith Goddard
Colourist: Daniel De Vue (Glassworks)
VFX supervisor: Chrys Aldred (nineteentwenty)
Sound: 750MPH
Exposure: (media channels) Facebook, Instagram, YouTube, owned channels and events
Source: M&C Saatchi London