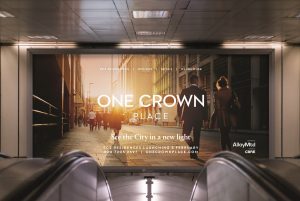 Branding agency me&dave has created the identity for One Crown Place – a mixed-use development with two prismatic residential towers, office and retail spaces, destination restaurant, hotel and private members' club – in EC2 London, which real estate advisor CBRE launched to buyers on 1st March.
Working closely with CBRE, me&dave developed a brand that celebrates One Crown Place's unique architecture and prime location, just three minutes' walk from Liverpool Street Station, an area better known as a financial district rather than a place to live.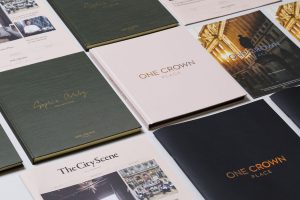 me&dave decided to show the location in 'a new light' – that brief but bewitching time at dusk and dawn when the City is bathed in a golden glow and corporate zeal takes a back seat.
The beautifully shot 'golden hour' images, art directed by me&dave, are central to the branding and place-making work and have been used across all digital and print marketing collateral. The golden hour theme also references the development's terracotta-clad exterior, which adds much-needed warmth to a skyline increasingly dominated by steel and glass.
Urbane Living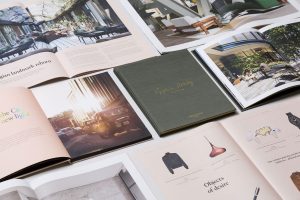 The task was to change the perceptions of City living, to communicate the value of life in a dense, iconic urban space that still appreciates the importance of a good work-life balance and to play up the burgeoning social and cultural scene, which is giving its neighbours a run for their money.
To this end, the brand campaign material focuses on what the location can offer, as well as specifics about the development, appreciating that the target audience care as much about what's going on around them as they do the actual space in which they're living.
Pressing Matters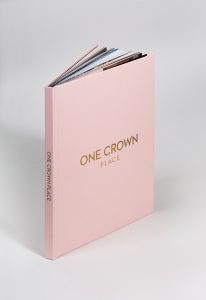 Central to the campaign are beautifully bound, hard-back books that bring to life the district and showcase images of the City and surrounding neighbourhoods. With evocative café, bar and street scenes, they give a taste of what life will be like for residents.
me&dave also conceived 'The City Scene', One Crown Place's very own quarterly newspaper. Available locally, it's designed to create a real buzz in the area and enable One Crown Place to develop and maintain a fluid and responsive relationship with buyers and the community.
Creative Director and Co-founder of me&dave, Mark Davis, says: "Our job was to challenge perceptions and switch people on to the exciting and unexpected urban lifestyle that's up for grabs at what is one of the most significant mixed-use schemes in the capital right now. The dynamics of the City are changing: it's less about grey suits and ties. More and more restaurants and bars are moving in that don't just cater to the office crowd. Capturing the theme of 'seeing the City in a new light' has enabled every aspect of our campaign to come together and provide a beautiful starting point for the brand."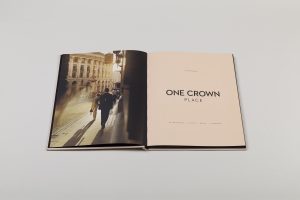 Alex Hartnall, Head of Communications, CBRE UK, says: "As buyers increasingly seek to achieve a greater work-life balance, homes within walking distance of offices, shops, bars and restaurants are in high demand. Located a stone's throw from the Square Mile, One Crown Place is perfectly placed for buyers seeking this mix of work and lifestyle, but the area's lack of identity had left it off the map. me&dave has responded with a place-making strategy that transforms this often-overlooked district into a covetable residential location. They've created a brand that breathes life and warmth into an area previously associated with offices and finance. The team has a clear vision of the target consumer and how to connect with them in a way that goes far beyond floor-plans and brochures to evoke an appealing way of life."
Source: me&dave