London-based independent creative agency Mr. President has worked in collaboration with MOO's in-house creative team to launch a new awareness campaign, showcasing MOO as front of mind for creative businesses around the world.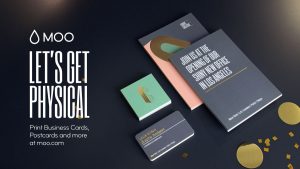 The "Let's Get Physical" campaign celebrates the sheer joy felt by creative professionals and businesses when their designs are brought to life and printed on premium quality paper. The concept is a build on MOO's purpose, "Great Design for Everyone" and talks to people who live and breathe beautifully printed design.

The film opens on a designer who has finally finished designing his business cards at the end of a busy day. When he clicks "Print", his world explodes with glitter into dance and song as he enters the amazing world of MOO. The spot ends as he checks out his brand new business cards, smiling with a huge sense of pride.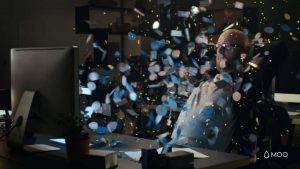 "We wanted to capture the pure joy that people feel when they see their work come to life perfectly with the quality that MOO brings. As they're such a playful brand, we were keen to tell this story in that way too," commented Laura Jordan Bambach, Chief Creative Officer and Partner at Mr President.

"As the world becomes more digital, print has never been more powerful. It helps people make real-life, physical connections in a way that digital can't. MOO helps creative people and businesses represent themselves and that in itself should be something worth celebrating – with a little glitter and a lot of disco."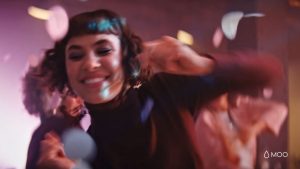 Stepanie Shore, Chief Marketing Officer, MOO, commented: "This campaign perfectly captures that 'pinch me' moment that many of our customers feel when receiving their MOO packages – realising that their business dreams have become a reality. We are eager for this new campaign to go live and build on the success of our previous work."

The new "Let's Get Physical" campaign will launch in the US from the 1st of April. Mr. President also previously created the "You by MOO" campaign creative which ran in the US from 2016-2018.
Source: Mr. President