Brand, creative and digital agency Mr B & Friends has quite literally launched a new campaign for plasterboard manufacturers Siniat UK.
Siniat is one of the UK's largest manufacturers of plasterboard and related products. Its Weather Defence product is an external sheathing board that can be left exposed to the elements for 12 months on frame without detrimental effect, speeding up building projects by allowing internal construction work to start before the external façade is completed.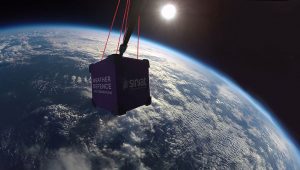 Formed from the proposition 'innovation is proven', the exciting integrated campaign saw capsules made out of the second generation of Siniat's best-selling plasterboard product powered into space by a weather balloon to take on the most extreme conditions. Within the capsules, the names of 75 lead architects and main contractors were written and, once returned to earth, these were sent to each of the targets along with a video featuring captivating footage of the incredible mission.
The agency teamed up with a company called 'Sent into Space' who designed the mission course and worked with Siniat's technical experts to ensure the design of the capsules protected the delicate camera and electronics on board. The weather balloons were launched from Ferrybridge and collected from their planned landing area in Norwich.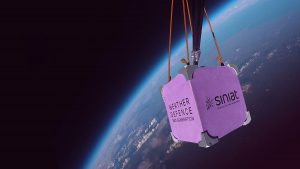 Prior to the launch, a teaser campaign ran, which led with the message 'Keep up'. Siniat has a strong focus on technical expertise and was first to market with this form of specialist plasterboard in 2014. This second-generation sheathing comes with a clear message to its audience that this is a superior product and the company continues to be firmly focused on product innovation to drive efficiencies for the construction industry.
Rob Lewis, Art Director at Mr B & Friends, says: "Siniat has proved time and again that their product really stands up to all conditions, so we thought we'd put it to the ultimate test. If being launched into 21 miles into the air and surviving temperatures of -60 degrees celcius doesn't show the product's worth then I'm not sure what does!"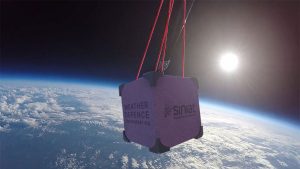 Wendy Baker, Commercial Marketing at Siniat UK, says: "We wanted to prove that our products and our appetite for innovating are one step ahead, and this campaign does exactly that. As well as really showing beyond any doubt that Weather Defence is an incredibly durable product, we have created a campaign that really captures the imagination. We're looking forward to hearing about the recipient's reactions."
Source: Mr B & Friends