[KGVID width="600″ height="338″]https://marcommnews.com/wp-content/uploads/2016/03/M_S_EASTER_40_SEC_01-21_12h39-720p_HD_MPEG_4.mp4[/KGVID]
M&S has launched a new campaign for Easter showcasing its delicious range of chocolatey seasonal treats and innovative new Easter egg designs.
The "Adventures in which came first" campaign, created by RKCR/Y&R, celebrates the chocolatey loveliness that is M&S at Easter, and plays on the age-old riddle – which came first the chicken or the egg?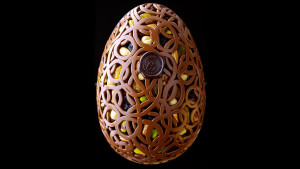 The TV ad by the creative agency, is the latest instalment in the brand's award-winning 'Adventures in Food' campaign.
The campaign will launch on TV and online nationwide on Thursday, March 17th, and will air for one week.
Chris Hodgkiss says "We all look forward to enjoying chocolate treats at Easter and the iconic 'Adventures In' campaign inspires us year-on-year with new mouth-watering favourites; only this time through that 'sweet' old age question. Which came first, chicken or the egg?"