is unveiling a range of new products that marries the power of nature and science to deliver better-than-expected performance levels than other 'natural ingredient' shampoos and conditioners.
Available from this month, bio:renew builds on the Herbal Essences brand's strength in the 'naturals' segment of the hair and beauty category, which is expanding rapidly. It's a 55 billion dollar business globally and is expected to grow by more than 12% in 2018, mainly driven by haircare.
As one of the UK's leading haircare brands, Herbal Essences has a strong portion of the market and is one of the top three performing haircare brands in convenience, alongside fellow P&G names Head & Shoulders and Pantene.
When launched in the US, grouping bio:renew with the existing Herbal Essences range boosted category value by up to 5% and brand value by up to 31%, so P&G is hoping this latest innovation will boost sales of the existing Herbal Essences range in the UK, as well as the overall category.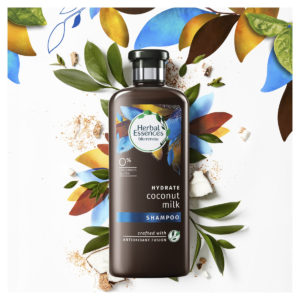 Jo Vaughan, Haircare brand manager at P&G, says: "Some 20% of health and beauty sales in convenience stores are an impulse buy and retailers can make the most of this by stocking best-selling brands like Herbal Essences. This latest range extension is such a great addition to the Herbal Essences family and is a must-stock for all retailers. We are supporting the launch with POS displays to ensure strong impact at point of purchase to help drive sales. As the leader in 'naturals' haircare and with its premium positioning, we are confident we can help drive further category growth with bio-renew."
The bio:renew line up comprises seven shampoos and conditioners, each free of colourants, parabens and gluten and designed to deliver specific benefits including hydration, repair, volume and shine. The new range joins the rest of the Herbal Essences family, including Hello Hydration, Dazzling Shine, Ignite my Colour and Daily Detox.
Herbal Essences bio:renew is the latest evolution in a rich history of innovation from P&G. Anti-oxidants are the core building block of the bio:renew ingredient blend, which also contains sea kelp and aloe. It helps remove the build-up of free radicals and revive dull, lifeless hair after every wash, resulting in hair that is full of life and noticeably smooth.
Source:Â P&G